#NISODProfiles – Mwauna Maxwell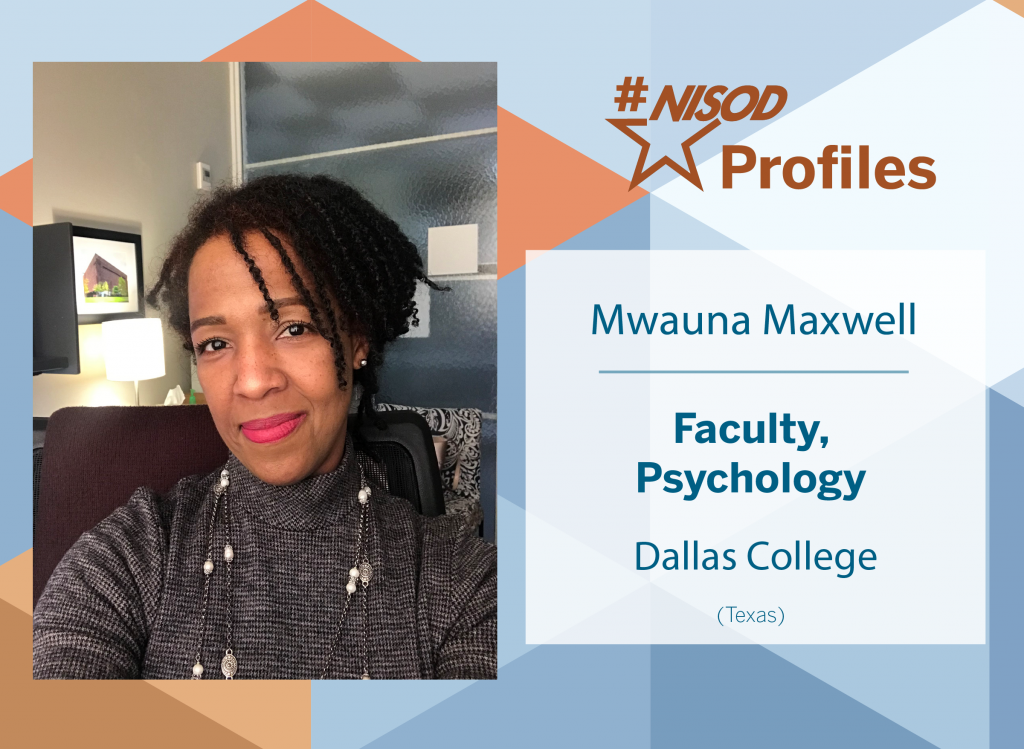 "Faculty, I invite you to visualize your students leaving the classroom at the end of the semester with a distinct feeling of belongingness and value. Now, think about all the experiences, beginning with the first day, that will engender those feelings. Your relationship with each student is where it starts– build trust as your foundation."
#NISODProfiles | November 19, 2020
How long have you been an educator?
Fourteen years.
What is your favorite part about being a community or technical college educator?
My favorite part about my work as a community college educator is the opportunity to be part of another person's journey as they pursue their personal dreams and academic goals. Students invite me in to share their experiences, and I feel grateful to be a part of it! I particularly enjoy affirming students as they follow their own uniquely-designed purpose.
What is your best piece of advice for new or existing colleagues at community or technical colleges in your field?
Faculty, I invite you to visualize your students leaving the classroom at the end of the semester with a distinct feeling of belongingness and value. Now, think about all the experiences, beginning with the first day, that will engender those feelings. Your relationship with each student is where it starts– build trust as your foundation.
How do you connect with your students?
I position myself as a supportive partner for this leg of the students' journey. This role requires me to establish trust and to know my students as individuals. However, I do not force relationships. I would prefer that they grow organically from the classroom experience and the needs of individual students. I have also found that students appreciate and connect with our humanity as professors. They need to know that we make mistakes, we experience the same emotions as they do, and we have been where they are. Personal stories (from myself and the students) are a great way to connect with one another.
If you could have dinner with anyone, who would it be and why?
I would love to share a meal with my father and mother, who died in 2000 and 2017, respectively, to thank them for leading me to this place in my life. They are alive within me. If you know me, you know a part of them. There are so many things I have learned from them, and so many things about my life I would love to share with them. The older I get, the more of them I see in me, and it makes me smile. I would want them to know that I miss them, I love them, and that I am living life well.
Every month, NISOD profiles faculty and staff from our member colleges who are doing extraordinary work on their campuses. #NISODProfiles offer a direct connection to your colleagues from across the world who exemplify NISOD's mission of improving teaching, learning, and leadership.