Latest Version
Issue No. 11 | August 2018
In "Rationality in Education," Dr. John Eigenauer, Professor, Philosophy, Computer Science, Taft College (CA), explains why rational thinking needs to be integrated into college courses.
Interested in learning more from Dr. Eigenauer? Dr. Eigenauer facilitates "Teaching Critical Thinking," a NISOD workshop that provides you with concrete tools for teaching critical-thinking skills while covering required course content. Would your college like to host a NISOD regional workshop? Participants from host colleges receive a deep discount on registration fees! Visit www.nisod.org/workshops or contact Edward Leach at ed@nisod.org or (512) 232-1430 for additional information.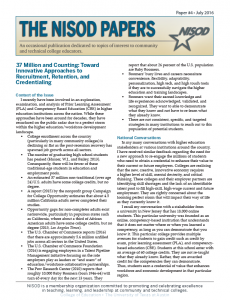 The NISOD Papers, an occasional publication, is NISOD's version of a white paper series that educates our audience or explains a particular issue relevant to community and technical college educators. The NISOD Papers covers an array of diverse topics: professional development, emerging technologies, crisis communication, education reform, and more. It complements NISOD's weekly Innovation Abstracts, which focuses on teaching and learning topics and is directed specifically toward faculty members.
Past Issues
Past issues are posted in the archive section of our website.
Authoring a The NISOD Paper Piece
Become a part of NISOD's stellar reputation and 40-year history by authoring an article for The NISOD Papers. Because the publication appears occasionally, it is especially easy to tailor the publication date of your article to the timeframe that best suits your schedule. Click here to be a The NISOD Papers author.