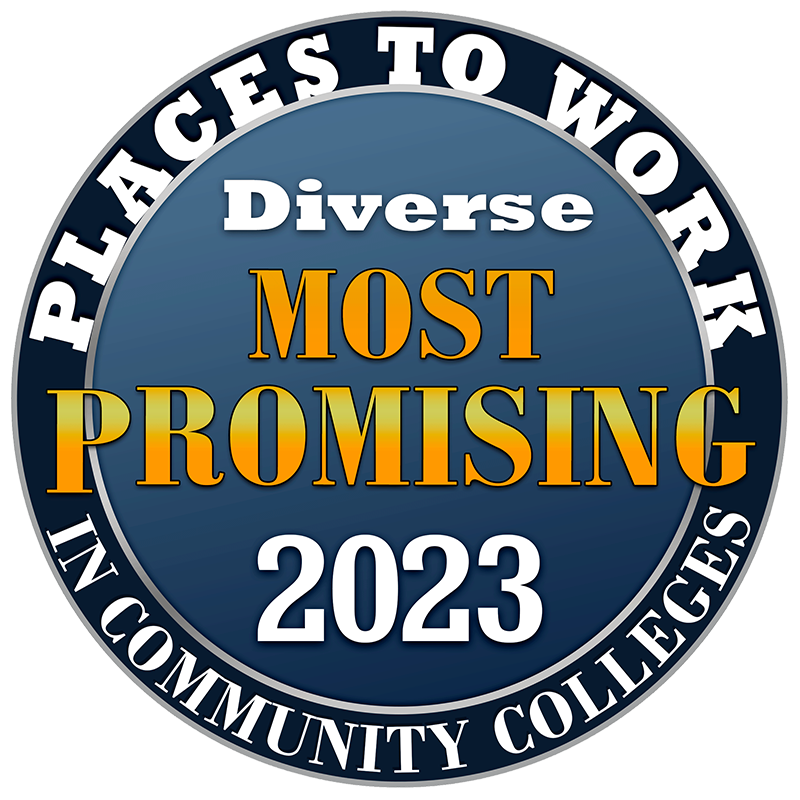 Most Promising Places to Work in Community Colleges
Since 2014, NISOD and Diverse: Issues in Higher Education have partnered to name the Most Promising Places to Work in Community Colleges (MPPWCC). The MPPWCC study recognizes community and technical college exceptional commitments to diversity (including race/ethnicity, gender, sexual orientation, disability, age, class, veterans, and thought) through best-in-class student and staff recruitment and retention practices, inclusive learning and working environments, and meaningful community service and engagement opportunities.
Promising Practices at Community Colleges
As the Most Promising Places to Work in Community Colleges project evolves, we learn more and more about what's going on at various institutions to increase faculty and staff diversity, to foster staff sense of belonging and to equip college student educators for their work with students. Presented here is a set of "promising practices" that have held up across each year of the study.
Recognition of Good Work
Each year, we hear from faculty and staff who work at community colleges about the importance of good work being recognized, especially by those in leadership positions. Specifically, institutions recognized as Most Promising Places over the past few years have been known for hosting formal ceremonies that recognize the meaningful contributions of various members of the staff community. Quite often, faculty and staff described this practice as a positive feature of institutional culture that helped to retain them as well as their colleagues. In addition to institutional awards and ceremonies, many faculty and staff noted that their campus leadership also nominated them for regional and national awards, honors and recognitions sponsored by professional associations. We encourage community college leaders to adopt similar practices or approaches for recognizing the good work
Commitment to Meeting the Needs of Community
The espoused mission of community colleges includes a clear focus on serving the needs of the local community. Thus, it is no surprise that faculty and staff at institutions designated as Most Promising Places underscored the importance of their institutions living up to this responsibility. Throughout the years, faculty and staff have consistently shared insights about their institution's connection to, service of and appreciation for the communities in which they are located. For instance, some institutions provide support to the local business community through rapid responses, professional development and workplace training that meets the needs of today's labor market. Other institutions signal the importance of community engagement by having cabinet-level leadership in the area such as a vice president of diversity and/or dean of community impact. Recently recognized MPPWCCs and this year's featured schools host summits on racial justice, comprising keynote presentations, panel discussions and roundtables that connect community to campus. We encourage all community college leaders and their respective institutions to truly be members of their local communities, serving the needs of the people on campus and beyond.
Investment in the Development of Faculty and Staff
Institutions represented among our Most Promising Places over the years have prioritized significant investment in the professional development of faculty and staff to better prepare them for leadership within the organization and broader community. Faculty and staff at institutions recognized as Most Promising Places over the years have discussed at length the ways in which their institutions have signaled commitment to them by investing in their professional development. For instance, at Montgomery County Community College (MCCC), faculty and staff highlighted the Faculty Diversity Fellows program for junior minority faculty and the President's Leadership Academy for staff members considered "rising leaders" within the institution. Likewise, Community College of Allegheny County (CCAC) staff members report that there were always resources available to support their pursuit of professional development on and off campus, including book clubs, conference attendance, employee resource groups, webinars and on-campus leadership training seminars. We learned that several MPPWCC institutions host a college-wide training on equity mindset and all-college staff development days on topics ranging from data visualization to equity. Interestingly, CCAC staff noted that the campus offers a range of electronic supports like online diversity training, online civility courses and LYNDA online training with closed captioning. We encourage senior leaders at community colleges to make concerted investments in formal professional development activities for faculty and staff by adopting some of the ideas listed here and in previous editions of this report.
Much of the information above was obtained from the May 27, 2021, edition of Diverse: Issues in Higher Education.