Co-Host a Regional Workshop
NISOD has assembled an outstanding collection of workshops designed specifically for community and technical college educators. Regional Workshops bring together educators from around your area to network, be inspired, and learn best practices from one another.
Would your college like to co-host a Regional Workshop? Ideal host sites are those with several other community and technical colleges within a relatively short driving distance (3 hours or less).
In exchange for co-hosting a Regional Workshop, workshop participants from your college receive a deep registration discount!
| | | | |
| --- | --- | --- | --- |
| Early Registration | Rate | Late Registration | Rate |
| Host College (Member) | $139.00 | Host College (Member) | $189.00 |
| Host College (Non-Member) | $189.00 | Host College (Non-Member) | $239.00 |
| Member College | $169.00 | Member College | $219.00 |
| Non-Member College | $219.00 | Non-Member College | $269.00 |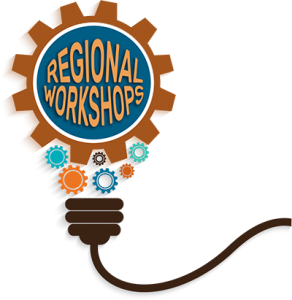 Regional Workshop Schedule
Although other arrangements can be made, Regional Workshops are typically held on a Friday from 10:00 a.m. – 2:30 p.m. with a 12:00 – 12:30 p.m. lunch provided by NISOD.
Roles and Responsibilities
NISOD manages all pre-workshop and onsite registration logistics, including hosting the online registration and other web pages.
NISOD contracts with the Regional Workshop facilitator and pays and reimburses him or her for travel and other expenses.
The co-host college and NISOD work together to identify an ideal date for the workshop.
The co-host college and NISOD work together to select a workshop topic.
The co-host college provides a meeting room (with desks/tables) large enough to hold 50-100 people. Approximately 50 participants registered by the Early Registration Deadline are required for Regional Workshops to "make."
The co-host college provides a projector, screen, Wi-Fi, and wireless microphone and speakers.
The co-host college assists in promoting the workshop to other institutions in the area.
I have received several thank you's from our faculty. I would love to host another Regional Workshop. It's a great way for me to offer high-quality professional development to our faculty and staff.
Professional Recognition
NISOD has partnered with Credly to provide participants with a verifiable version of their Regional Workshop credential. In addition to receiving a downloadable Certificate of Completion, workshop participants can also receive a digital badge they can share via LinkedIn, Facebook, Twitter, email, as well as embed on their personal website!
Co-Host a Regional Workshop

Provide your college's faculty, administrators, and staff access to a cost-effective, high-quality, and high-impact learning experience! Please contact Edward Leach at ed@nisod.org or (512) 232-1430 for additional information or to arrange to have a workshop brought to your region.
Available Workshops
| Workshop Title | Workshop Facilitator |
| --- | --- |
| Building a Culture of Reflection | Gena Merliss |
| Deeper STEM Learning Through Metacognitive Conversation | Dr. Nika Hogan |
| Engaged Academic Literacy for All With Reading Apprenticeship | Dr. Nika Hogan |
| The Faculty Role in Guided Pathways | Dr. Nicole Matos |
| Preparing for Difficult Classroom Conversations: Strategies for Expert and Novice Facilitators | Dr. Jennifer H. Herman |
| What's the Secret to Creating Classroom Discussions That Work? | Dr. Jennifer H. Herman |
| Capture My Heart, Educate My Soul | Dr. Pamela Tolbert-Bynum Rivers |
| Teaching Critical Thinking | Dr. John Eigenauer |
| Flipped Learning: Pathway to Student Success | Erik Christensen |
| Emotional Intelligence, Student Efficacy, and the Growth Mindset | David R. Katz III |
| Strategies for Student Learning and Success: Relational Teaching and Classroom Community Building | Dr. David Schoem |
| Teaching With Your Mouth Shut: Keeping Students Active, Attentive, and Engaged! | Dr. Ericka Landry |
| Transforming Cell Phone Distractions Into Personalized Learning Interactions | Marcus E.R. Williams |
| Searching for Tangible Evidence of Critical Thinking Skills | Sean J. Glassberg |
| How to Manage Student Behavior Without Really Trying | Sean J. Glassberg |
| Another New Paradigm: The MillennialZ and Educational Technology | Sean J. Glassberg |
| Ignite, Inspire, and Innovate: Integrating Innovation Into Today's College Courses | Dr. Judith Cardenas |
| The Age of Artificial Intelligence and Learning | Dr. Judith Cardenas |
| Meaningful Recognition: "I Like the Way You Said That" | Wendy Garretson |
| Everyone Communicates, but Few Connect: Effectively Engaging Today's Learner | Dr. Nicole Rankine |
| Universal Design for Learning: Understand It, Design It, Live It | Elizabeth A. Mosser |
| Educational Psychology Crash Course: Encouraging a Culture of Continued Improvement | Elizabeth A. Mosser |
| When Mindfulness Meets the Classroom | Chelsea Biggerstaff |
| Using The Inspirational Six (The i6) to Rekindle the Light of Creativity | Stewart Barr, Anthony Pitucco |
| Awaken YOUR Futuristic Mindset: How to Think Like a Futurist | Dr. Parminder K. Jassal |
| Multiple Pathways to the Student Brain: Science and Strategies to Energize and Enhance Instruction | Dr. Janet Zadina |
| Technology Frenzy: Effectively Incorporating Technology Tools Into the Classroom | Dr. Ericka Landry |
| Faculty Chats: Collaboration and Idea Sharing for Student Success | Dr. Ericka Landry |
| Addressing the Hidden "Learning Disability" of Anxiety, Stress, and Trauma: Science and Strategies for Creating a Trauma-Sensitive Classroom | Dr. Janet Zadina |
| Relationships Matter | Juan R. Abascal and Dominic Brucato |
Regional Workshops supplement NISOD's offerings of professional development programs and resources, which culminate with NISOD's Annual International Conference on Teaching and Leadership Excellence held every Memorial Day weekend in Austin, Texas. NISOD's annual conference is noted as the premier convening of community and technical college faculty, administrators, and staff who strive for excellence in leadership, teaching, and learning. For more information about NISOD's conference or to register, visit www.nisod.org/conference.