2017 Virtual Conference Digital Access
NISOD's Inaugural Virtual Conference, which brought the reputation of our annual conference to a virtual platform, was a huge success! Due to popular demand, we are making the recorded Virtual Conference sessions available for purchase at a nominal fee.
"The virtual conference was great! I learned a lot from the presenters and the event was very cost-effective."
Jodi Fudge, Chair, Business and Technology Division, State Fair Community College
"Thank you for a great virtual conference, which was another excellent NISOD experience!"
Erin Fivecoat, Instructional Administrative Assistant and Assistant to the Division Dean, Science, Health, and Nutrition, Portland Community College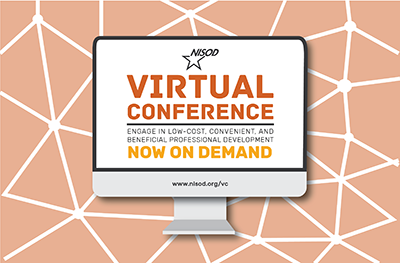 Sessions and Facilitators
Using the 4Ds of Appreciative Inquiry to Improve Faculty Communication
Communication between college faculty is a key component in modifying curriculum and maintaining a positive learning culture. Appreciative Inquiry (AI) is a problem-solving method based on organizational analysis. This session introduces participants to AI's four phases: Discover, Dream, Design, and Destiny. Engage in a problem-solving session using the 4D method to enhance your understanding of the process.
Herbert Jackson, Faculty, Respiratory Therapy Program, Houston Community College
Developing and Deploying an Online Teaching Certification Program
Wake Tech Community College developed a mandatory certification program for all online faculty to increase faculty preparedness. A team of faculty and e-learning support staff developed e-learning standards and a rubric used to evaluate online courses. The presenters provide details about the EPIC Online Teaching Certification, which offers 30 hours of professional development that cover every aspect of online instruction.
Alison Consol, Associate Professor/Program Director, Advertising and Graphic Design/Web Technologies; Cindy Foster, Associate Professor/Program Director, Simulation and Game Development, Wake Tech Community College
21 Ways to Boost an Adjunct
Research on faculty type with regard to impact on student success is ambiguous. However, two things are clear: we rely on adjunct faculty to teach a large number of courses and adjunct faculty do not have equal access to the resources that support teaching excellence. Identify low-cost ways to boost teacher effectiveness and formulate versions of these ideas for their own campuses.
Michele Kelly, Associate Dean, Arts and Sciences, Macomb Community College
Instructor Preparation Academy: A Journey From Industry to Education
Experience the three-year journey through the Instructor Preparation Academy from the perspectives of new, fulltime faculty at Northeast Wisconsin Technical College. Examine how Boot Camp, Faculty Learning Communities, and Individualized Professional Development plans support and engage faculty in their professional development and career growth.
Cliff Goodacre Jr., Faculty Development Consultant; Stephanie Atkins, Faculty Development Consultant, Northeast Wisconsin Technical College
Leveling the Playing Field: Adjunct Perspectives for Faculty and Administration
Often decisions affecting adjunct faculty occur without their input. Alternatively, administrators and tenured faculty may not be fully aware of the issues adjuncts face. This session introduces main issues from the perspective of adjunct faculty. Adjuncts, full-time faculty members, and administrators have the opportunity to discuss these important issues directly, increase interaction with each other, and seek mutual understandings.
Bob Ertischek, Founder, Profology
Becoming a Connected Educator: Building Your Own Personal Learning Network
This session provides an overview of various strategies and online resources that help faculty members stay current in their respective teaching disciplines. Social media tools, as well as additional assets, are explored. Participants gain an understanding of what a Personal Learning Network (PLN) is and why it can be beneficial to their teaching and learning. A variety of technologies are identified to help build, modify, and interact with a PLN.
Mark Choman, Professor, Computer Information Systems; Jim McAndrew, Professor, Business Development, Luzerne County Community College
Engaging Adjunct Faculty With Course Assessment
Engaging adjunct faculty with course assessment processes involves many challenges, including scheduling, compensation, and lack of commitment. A faculty retreat that features assessment can deal effectively with these challenges. Discuss general strategies for scheduling, securing compensation, sparking faculty interest, managing a group assessment activity, facilitating assessment rubric revisions, and using the revised assessment rubric.
Thomas Donlan, Assistant Professor/Department Coordinator, Speech Communication; Amanda Gatchet, Assistant Professor, Speech Communication, Montgomery County Community College
GLUE: Enhance Collaboration Among Full-Time and Adjunct Faculty
This session showcases a simple model for including the adjunct voice. The protocol, GLUE, structures a professional learning community for adjuncts and outlines an efficient process where full- and part-time faculty, administrators, and support personnel share visions and ideas on behalf of students. Learn about effective questioning techniques that foster "critical friendship" and how to move from a culture of "drive-by" interactions to a culture of meaningful teamwork!
Stacy Pendergrast, Writing Instructor, NorthWest Arkansas Community College and Oklahoma City Community College
The Virtual Conference supplements NISOD's offerings of professional development programs and resources, which culminate with NISOD's Annual International Conference on Teaching and Leadership Excellence held every Memorial Day weekend in Austin, Texas. NISOD's annual conference is noted as the premier convening of community and technical college faculty, administrators, and staff who strive for excellence in leadership, teaching, and learning. For more information about NISOD's annual conference or to register, visit www.nisod.org/conference.
Generously Supported By