NISOD and the Association of College and University Educators (ACUE) offer onsite, interactive, and facilitated Seminars that are blended with ACUE's online learning modules.
Faculty can earn digital badges toward ACUE's Certificate in Effective College Instruction, the only national teaching credential recognized by NISOD and co-issued with the American Council on Education.
The Seminars, designed specifically for community colleges, each provide faculty with evidence-based practices:
NISOD/ACUE seminars are a great way to introduce your faculty to ACUE's comprehensive and proven instructional approach. At colleges nationwide, student outcomes are stronger and achievement gaps are closed among students taught by ACUE credentialed faculty!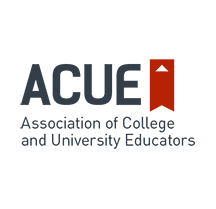 Schedule
NISOD/ACUE Seminars are typically scheduled from 10:00 a.m. to 2:30 p.m., which includes a half-hour lunch (12:00 – 12:30 p.m.) provided by NISOD/ACUE.
Cost
Early Registration Rate
Late Registration Rate
(approximately 30 days prior to the Seminar)
$249/person
$279/person
Currently Scheduled Seminars
No NISOD/ACUE Seminars are currently scheduled.

About NISOD: For community and technical colleges that want to make the most of their professional development dollars, NISOD provides budget-friendly, high-quality, and faculty-focused programs and resources. For over 40 years, NISOD has aligned a wide array of benefits with the needs of our members, which explains why the American Association of Community Colleges named NISOD, "The country's leading provider of professional development for community college faculty, staff, and administrators."

About ACUE: The Association of College and University Educators (ACUE) believes that all college students deserve an extraordinary education and that faculty members play a critical role in their success. In partnership with institutions of higher education nationwide, ACUE supports and credentials faculty members in the use of evidence-based teaching practices that drive student engagement, retention, and learning. Faculty members who complete ACUE courses earn certificates in effective college instruction endorsed by the American Council on Education. ACUE's Community of Professional Practice connects college educators from across the country through member forums, podcasts, and updates on the latest developments in the scholarship of teaching and learning. To learn more, visit acue.org.