Conference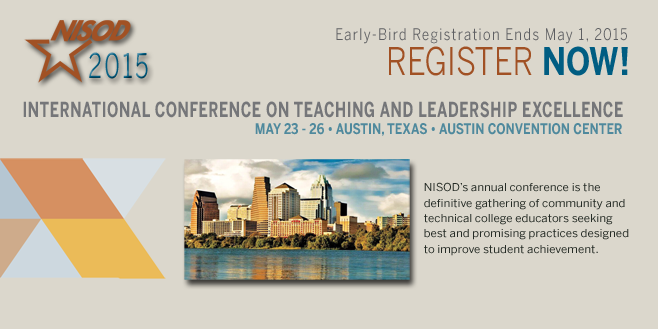 NISOD's International Conference on Teaching and Leadership Excellence attracts educators from around the world and is the definitive gathering of community and technical college faculty, administrators, and staff seeking to engage in deep conversations about best and promising practices designed to improve student achievement.
Come join us in May in Austin, Texas!
Conference Features
NISOD is providing conference participants with

two options

for a wonderful Saturday evening in San Antonio, Texas!
The Sunday Evening Excellence Awards Dinner and Celebration during which NISOD honors and celebrates

Excellence Award recipients

, as well as those individuals closest to them who contributed to their success.
General sessions featuring inspiring and motivating national speakers.

Intensive, hands-on preconference workshops facilitated by teaching and learning experts.

Special sessions facilitated by experts on the important issues facing today's community and technical colleges.

Exemplary practices and programs explored during breakout sessions, roundtable discussions, and poster sessions.

An exciting Exhibit Hall featuring NISOD exhibitors and sponsors demonstrating products and services.

Coffee breaks, refreshment breaks, receptions, and prize drawings that make the Exhibit Hall an exciting, information-rich, and fun-filled place to be.

Cyber Café, the perfect place for conference participants to take a break, network with colleagues, and check their email.

NISOD's College Showcase highlighting best practices in colleges across North America and beyond.

The Administrator Series featuring upper-level administrators sharing real-world solutions to today's demanding campus challenges.

Faculty members at NISOD member colleges who would like to attend our 2015 conference, but do not have the financial means to do so, can apply for a NISOD Conference Scholarship.
Do You Tweet?
You can receive the latest news and updates about NISOD's 2015 conference on Twitter at #NISOD2015.
Austin, Texas
What you hear about Austin, Texas is true. Home to more than 250 music venues, fun and inspiring cuisine, the Congress Avenue Bridge Bats, and stunning outdoor settings, the Live Music Capital of the World® lets you create a soundtrack all your own! Watch and listen to the City of Austin's music video with Grammy-winning artists here.