Building a Comprehensive HyFlex Experience: Applying Learning Theory, Instructional Design Principles, and Empathic Assessment to Achieve Student Success
Description
Through four separate workshop modules, participants gain knowledge and skills to build their own HyFlex course using specific learning theories, instructional design models, and assessment frameworks that align with the flexible course modality. This workshop is designed for HyFlex beginners, but will be differentiated to also provide valuable insights to instructors who are already implementing the course modality. The goal of the workshop is to equip participants so they leave confident and satisfied they can effectively and efficiently implement HyFlex within their own courses.
By the end of this workshop, participants know or be able to:
Apply various learning theories in the design of a HyFlex course aimed at learner customization.
Evaluate a HyFlex course for the inclusion of aligned principles of Universal Design focused on ensuring ADA compliance.
Create a design document that establishes a guided blueprint for the development of a HyFlex course.
Develop a HyFlex course using an inclusive design document drafted to promote an intuitive-learning experience that is flexible for all students.
Plans for Audience Participation and Interaction:
Starting with learning theory, self-regulated learning, cognitive load, and situated learning, theories are presented in a discussion-based format where learners do deep dives into topics and present information to the group. Building upon learning theory, the workshop moves into instruction surrounding Universal Design for Learning (UDL) and ADA compliance. Participants actively engage in a discussion based on presented case studies. The second half of the workshop focuses specifically on applying learning theory and UDL and ADA requirements to the design of a HyFlex course. Participants create a design document outlining their plan for a HyFlex course. This document takes participants from the analytical phase of design to evaluation, and prepares them for the last module, which involves developing of the course. Finally, participants use their design document from the preceding workshop module to develop their HyFlex course within Canvas. Instruction is presented using the Mentimeter platform, which engages participants by using their mobile devices.
Facilitator(s)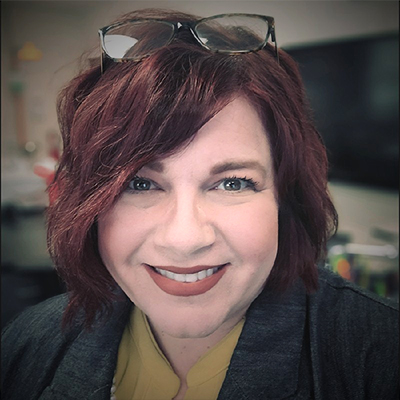 Dr. Candice Freeman is currently the MLT program director at Fayetteville Technical Community College, in Fayetteville, North Carolina. She also holds adjunct faculty positions at Winston-Salem State University and Appalachian State University where she teaches online courses in clinical laboratory science and teacher education, respectively. With more than 30 years of experience in clinical laboratories, government research, and pharmaceutical industries, Dr. Freeman brings a varied and diverse background of laboratory and quality improvement performance experience to education. Training and development of the healthcare workforce and student success are her passions, leveraged to help others achieve goals and reach their personal and professional definitions of success. Dr. Freeman is a certified medical laboratory technician, medical laboratory scientist, and blood bank technologist through ASCP and also has certifications in Google, ASQ, and CoSN. Candice holds an A.A.S. degree in medical laboratory technology, a B.S. in clinical laboratory science, MA.Ed. in social media and global education, and a Ph.D. in instructional design and education technology. Her future goals include advocacy for the value and importance of the United States community college system of schools as well as how emerging technologies can be leveraged to provide better and more inclusive instruction for career and technical education and training. Dr. Freeman's research interests include self-regulated learning in online environments, open digital teaching and learning practices, HyFlex course design and development, and empathic thinking to promote student success in higher education.