Due to changes in Apple's App Store policy, accessing this year's NISOD Conference App will be different than in previous years. In the past, we provided a standalone app that you could download and install on your mobile device but this year it'll work a little different. This year our app will be running as a "guide" inside the GuideBook App. Once you install the Guidebook App, then search and add the NISOD Guide, you will be able to access all the conference app features you are accustomed to.
Below are step by step instructions to install the Guidebook App and the NISOD Guide on your mobile device.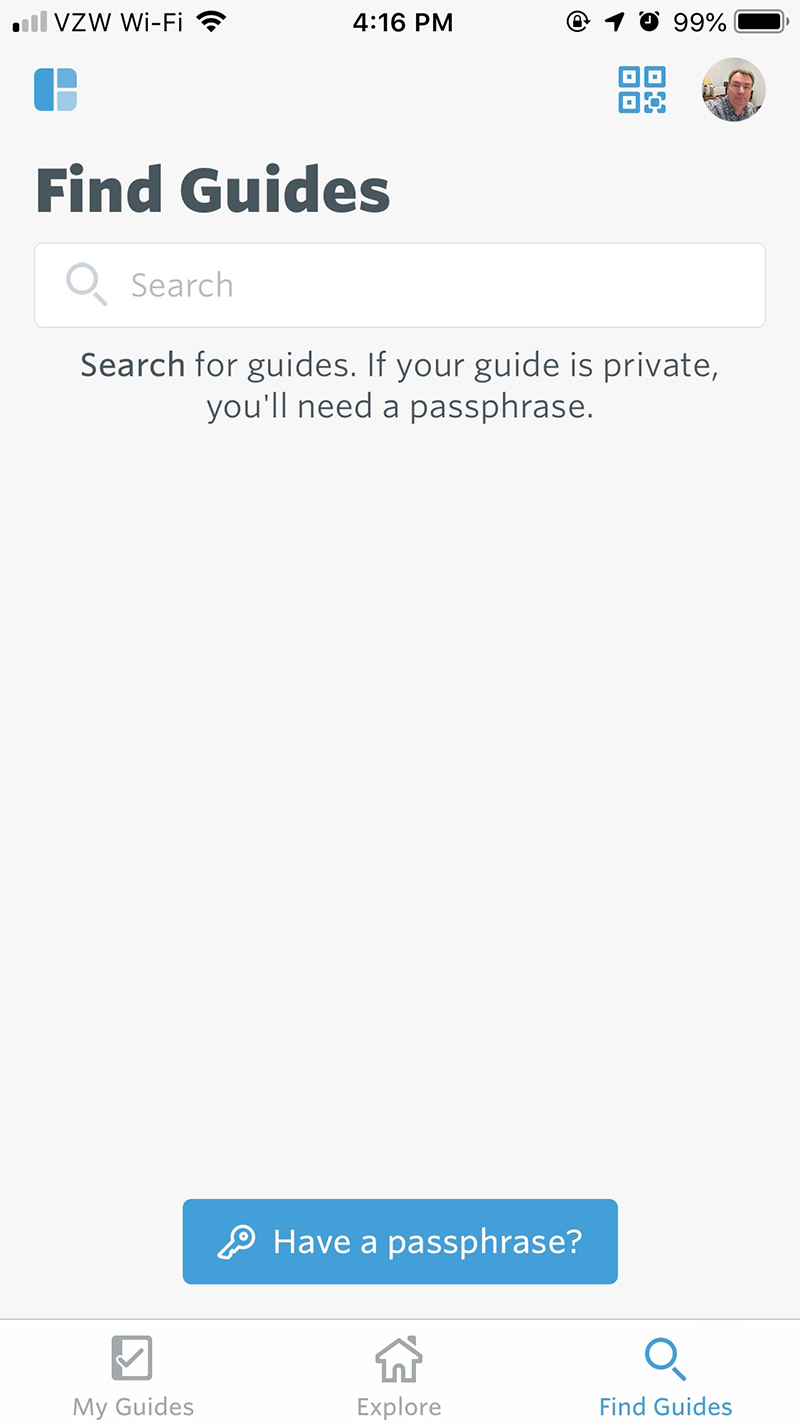 Step 2.
After launching the Guidebook app, click on "Find Guides" link at the bottom of the screen.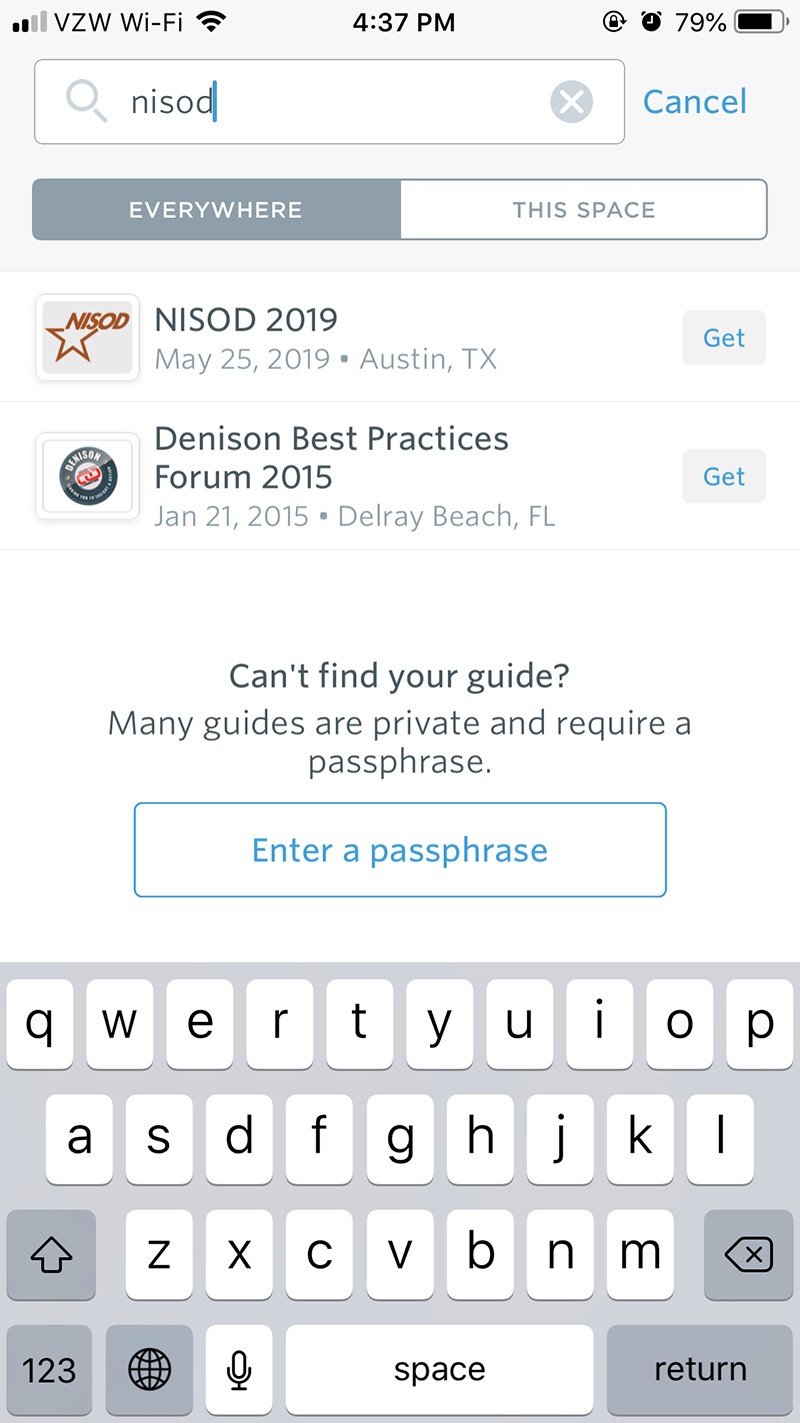 Step 3.
Type in "NISOD" and click the "2019 NISOD" guide in the list.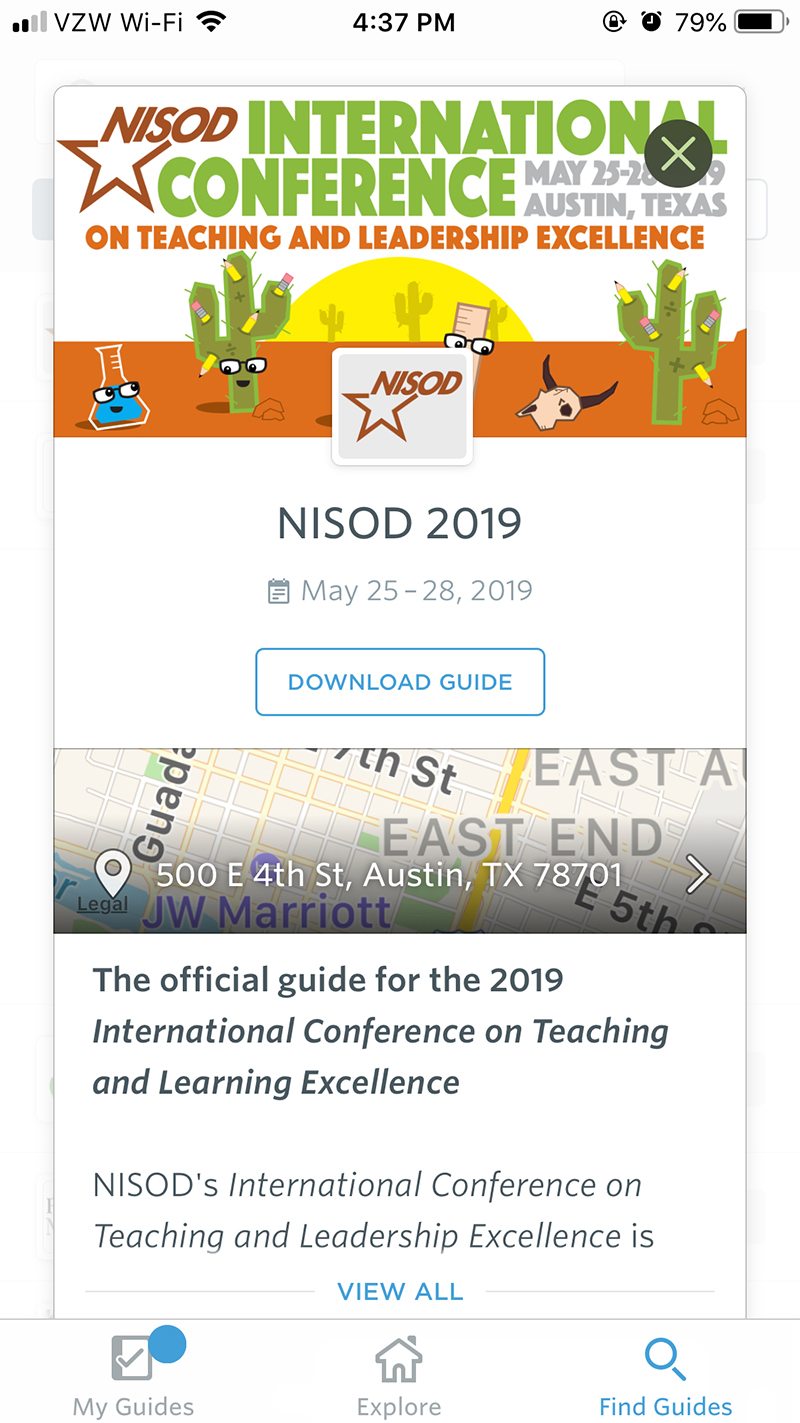 Step 4.
Click the "Download Guide" button.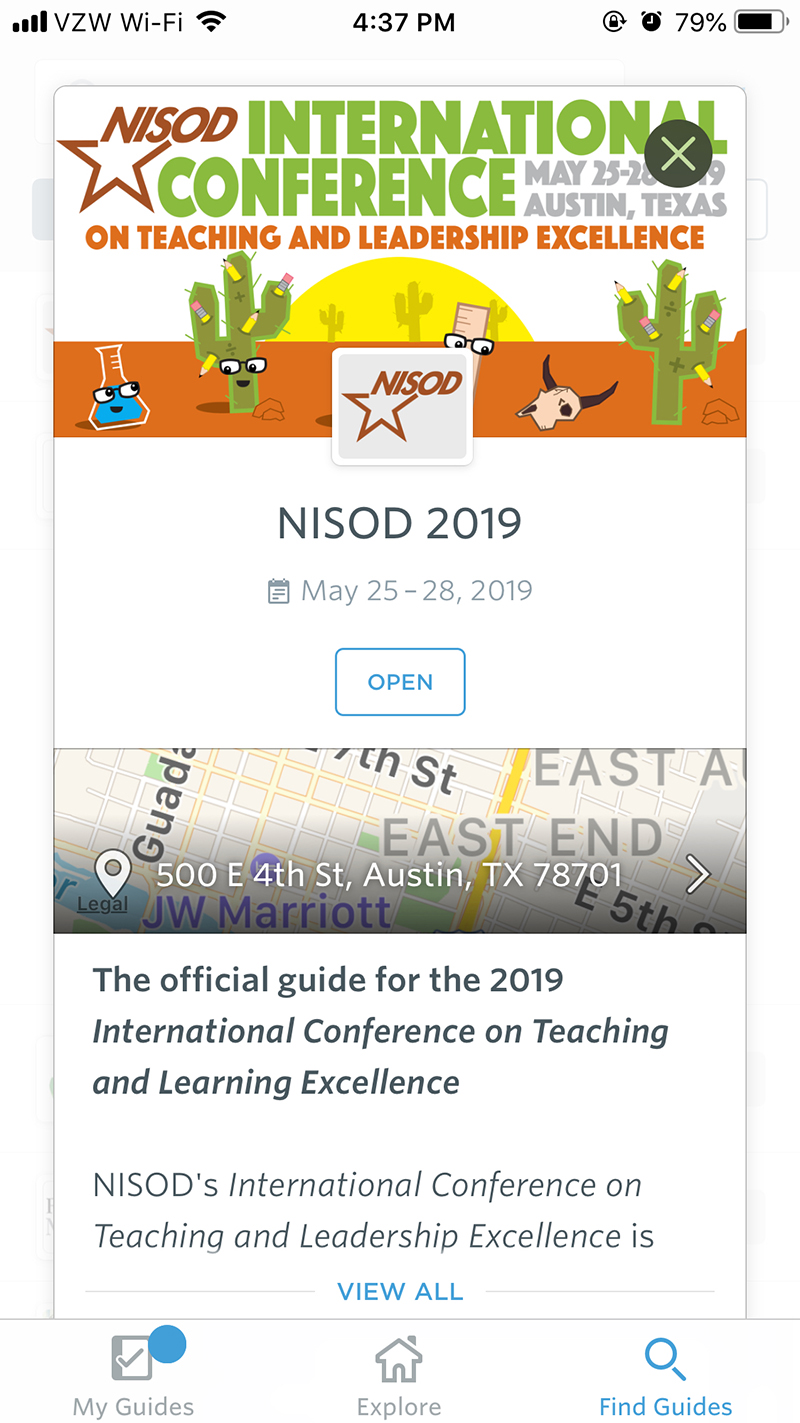 Step 5.
Click the "Open" button.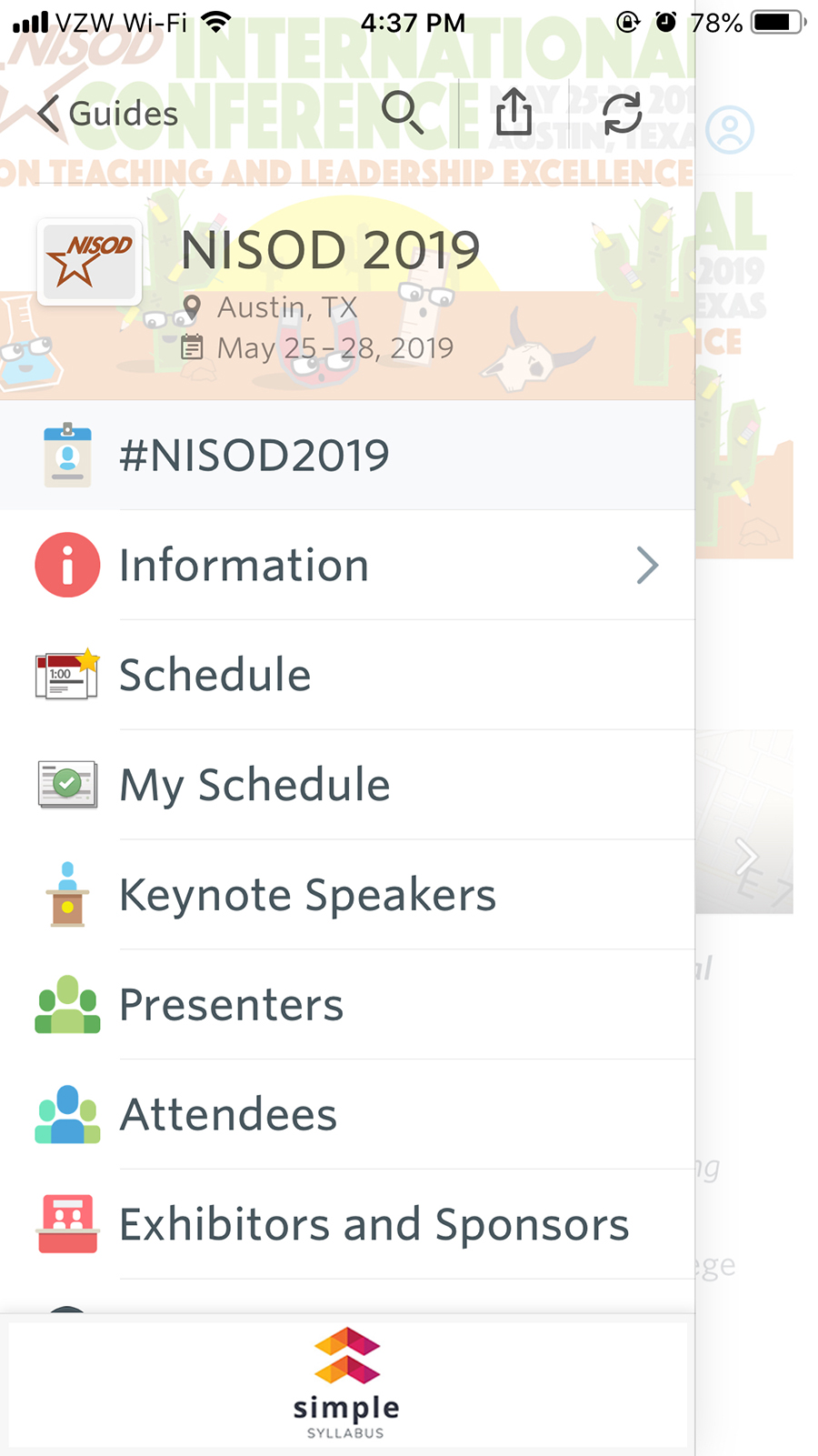 Main Features
• Schedule – You can find everything you need to know about sessions in the Schedule! Tap on the dates at the top of the screen to navigate through the schedule. Tap on a session name to get more details. You may see colorful dots on some sessions. These indicate "schedule tracks", which are tags for sessions according to topic, intended audience, etc.
• My Schedule -Create your own custom schedule by tapping "Add to my schedule" or the plus sign symbol from sessions in the Schedule.
• Keynote Speakers – information about our two Keynote Speakers.
• Presenters – All the session presenters, their contact information, and you can provide feedback on each session you attend.
• Exhibitors and Sponsors – All the great exhibitor and sponsors – be sure to check them out in the exhibit hall.
• Attendees – If you choose to log in, you can check in as an Attendee and see who else is there! You can add a picture and modify your profile, if you would like to share information with other attendees.
• Interact – The Interact feed is a great place to see what's going on during the confernece! Read announcements, post pictures, find popular sessions, and have discussions with fellow attendees all in one place.
• Messaging – You can connect with colleagues without sharing phone numbers or email addresses with in-app Messaging.