NISOD Celebrates 40 Years!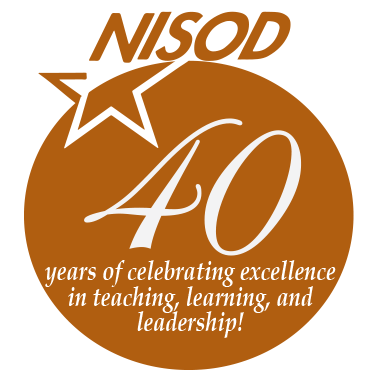 In 2018, NISOD celebrated it's 40th anniversary, a milestone in our storied history. This anniversary created an opportunity to reflect on how the organization has grown from a single publication into a 300+ member association promoting and celebrating excellence in teaching, learning, and leadership at community and technical colleges.
NISOD was formed in 1978 when Dr. John Edward Roueche, the organization's founder, discovered a need to identify and disseminate teaching strategies and tactics to community college practitioners. Dr. Roueche assembled an organization with the primary purpose of publishing solicited information about community college best practices, beginning with Innovation Abstracts, a publication that could be read in just a few minutes.
As NISOD grew, the association added new member benefits to enhance community college practitioners' professional development. Today, NISOD provides a virtual conference, a weekly newsletter (NISODirect), webinars, workshops, student contests, a diversity award, faculty scholarships, partner discounts, and the Excellence Awards. Of all the resources NISOD brings to its members, the hallmark is NISOD's International Conference on Teaching and Leadership Excellence, held every May in Austin, Texas.
As we look to the future, we are honored to share our journey with so many educators at community and technical colleges across the U.S., Canada, and beyond. We look forward to another 40 years (and more!) of providing extraordinary professional development for faculty, administrators, and staff, with the ultimate goal of increasing student success.