#NISODProfiles – Shamim Arastu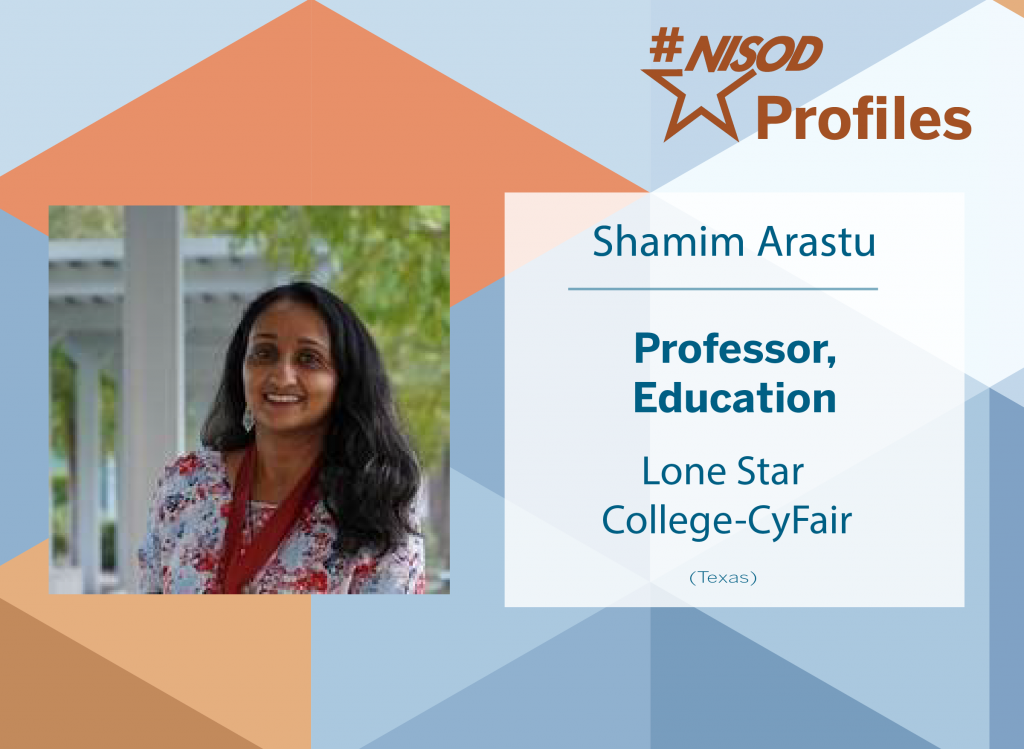 "Community college gives me the opportunity to work closely with students in a smaller setting. I love sharing information with students that will help them make choices about their areas of interest in the field of education. I serve as a bridge to provide a strong foundation for future teachers. They can then transition to an educator preparatory program with confidence and ease."
#NISODProfiles | December 3, 2020
How long have you been an educator?
Twenty-one years.
What is your favorite part about being a community or technical college educator?
Community college gives me the opportunity to work closely with students in a smaller setting. I love sharing information with students that will help them make choices about their areas of interest in the field of education. I serve as a bridge to provide a strong foundation for future teachers. They can then transition to an educator preparatory program with confidence and ease. In addition, being a community college educator allows me to collaborate with others, including ISD's and University Partners.
What is your best piece of advice for new or existing colleagues at community or technical colleges in your field?
Ask questions, listen, and give and receive feedback. These are necessary ingredients for individual growth and for the growth of a program.
How do you connect with your students?
I connect with students by making classes engaging through service learning projects and experiential learning in and out of the classroom. I strive to tie concepts taught in the course to real-life experiences. I really enjoy serving as an advisor to our Future Professional Educators Club and campus chapter of Kappa Delta Pi.
Share a memorable teaching experience and explain why it was so impactful.
I ask my students to engage in a variety of role-play scenarios and reflect on their own schooling experiences. Many students share their fears of not knowing what to say or do in a particular situation, while others share their own schooling experience and how they would do things similar or different to the actions of their own teachers. It is a meaningful activity because I can see the students' perspectives are impacted and changed. They get to see the value in role-playing and the connection between giving and receiving feedback to learning and growth.
Every month, NISOD profiles faculty and staff from our member colleges who are doing extraordinary work on their campuses. #NISODProfiles offer a direct connection to your colleagues from across the world who exemplify NISOD's mission of improving teaching, learning, and leadership.