#NISODProfiles – Kimberly George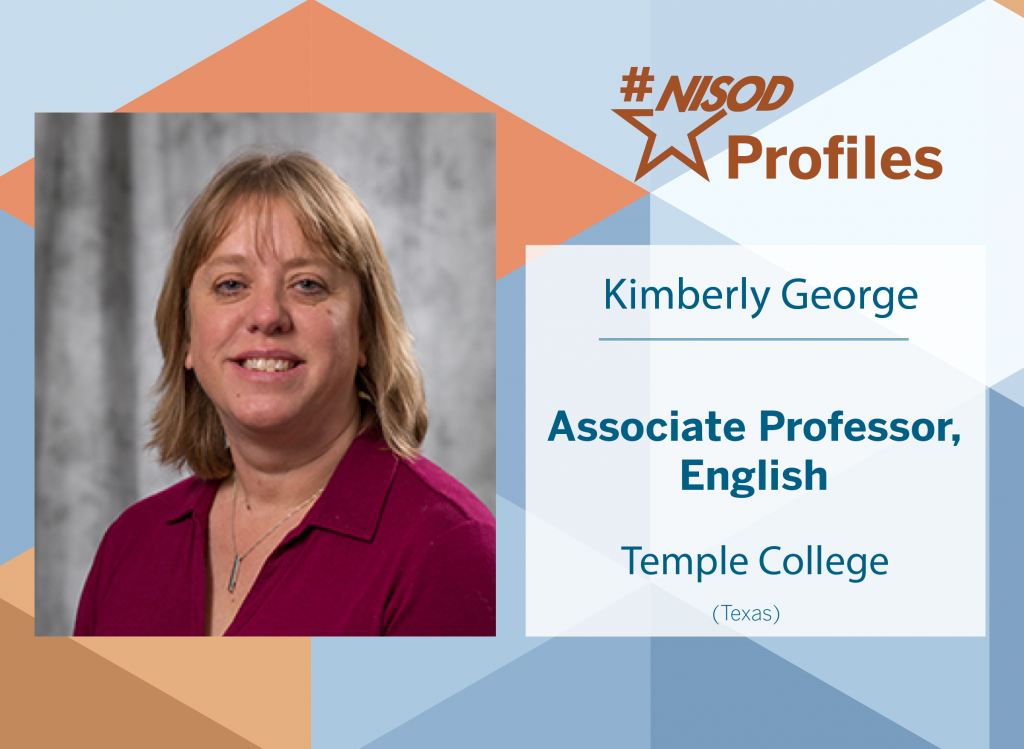 "Community college classes reflect a wide diversity of backgrounds, experiences, and life views. As a result, class discussions challenge me to see new views of life. I also enjoy working with faculty as we push each other to be more innovative and effective."
#NISODProfiles | November 5, 2020
How long have you been an educator?
Twenty-six years.
What is your favorite part about being a community or technical college educator?
Community college classes reflect a wide diversity of backgrounds, experiences, and life views. As a result, class discussions challenge me to see new views of life. I also enjoy working with faculty as we push each other to be more innovative and effective.
What is your best piece of advice for new or existing colleagues at community or technical colleges in your field?
Colleagues are the best resource available. Find time to brainstorm and share best practices to continue growing as a professional.
How do you connect with your students?
Prior to COVID, I connected with students by showing up early to class and talking with students about movies, current events, or life experiences. I also have found that replying quickly to student emails creates a stronger community within the classroom. Since COVID, Zoom office hours, informal discussions, and more extensive feedback on assignments have also helped.
Share a memorable teaching experience and explain why it was so impactful.
In the literature course I teach, we start the semester learning about archetypes. I had a middle-aged male student who entered class early one day, excited beyond belief. He had just seen the 2019 movie Joker and he could not wait to share with me the many archetypes used in the movie. He said that our class had changed the way he watched TV shows and movies, even upsetting his wife because he kept interrupting the film with his insights. This proved to me in such a tangible way the impact education can have on one's everyday life.
Every month, NISOD profiles faculty and staff from our member colleges who are doing extraordinary work on their campuses. #NISODProfiles offer a direct connection to your colleagues from across the world who exemplify NISOD's mission of improving teaching, learning, and leadership.