#NISODProfiles – Rafael Castillo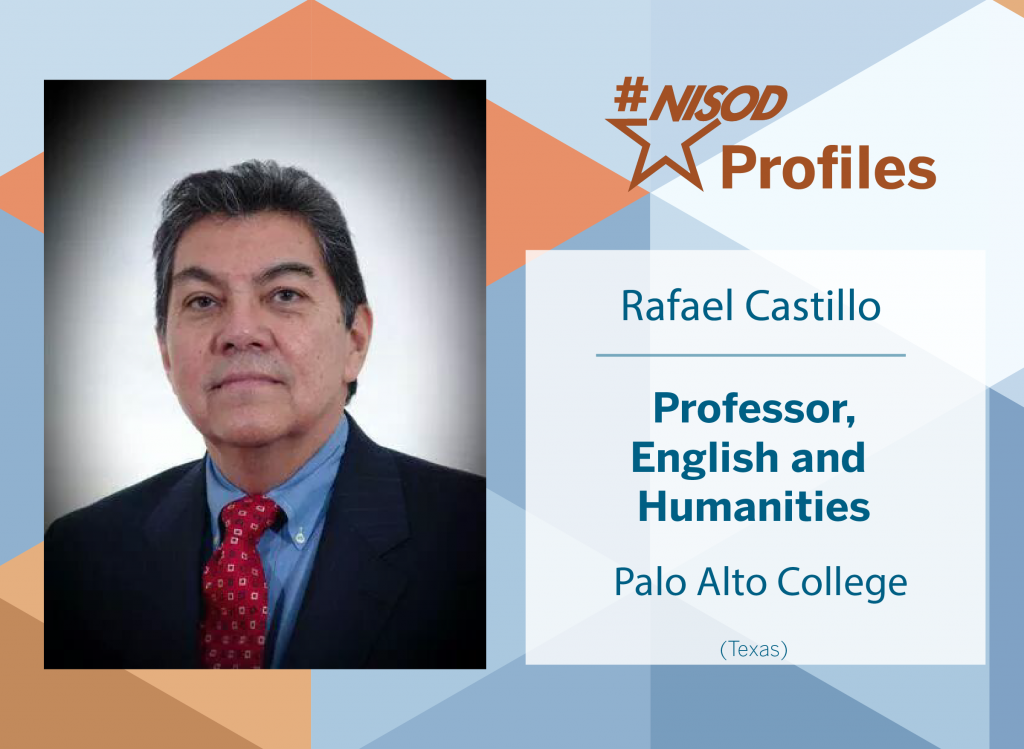 "Patience and empathy are the twin pillars I'd recommend to first-timers teaching community college students. In my classes, I share a short introduction to my struggles and fears as a first-generation learner to help students realize I understand their struggles."
#NISODProfiles | October 8, 2020
How long have you been an educator?
More than 30 years.
What is your favorite part about being a community or technical college educator?
I've taught at community colleges and universities, but I find community colleges most rewarding because of the smaller classes, the opportunity to engage students from the community, and the ability to connect with first-generation college learners.
What is your best piece of advice for new or existing colleagues at community or technical colleges in your field?
Patience and empathy are the twin pillars I'd recommend to first-timers teaching community college students. In my classes, I share a short introduction to my struggles and fears as a first-generation learner to help students realize I understand their struggles.
How do you connect with your students?
Face-to-face at campus events, sponsoring clubs, and mentoring students who want to write professionally.
Share a memorable teaching experience and explain why it was so impactful.
The most memorable experience–and there have been several–was mentoring a student who had fears about expressing himself in writing. He went on to write three books. I attended his first book signing at Barnes and Noble about 12 years ago.
If you could have dinner with anyone, who would it be and why?
I would love to have dinner with two philosophers, Plato, the mentor of Aristotle, and Hypatia, one of the most neglected female philosophers on the planet. I'd begin by asking them for a brief introduction to how they choose their careers.
Every month, NISOD profiles faculty and staff from our member colleges who are doing extraordinary work on their campuses. #NISODProfiles offer a direct connection to your colleagues from across the world who exemplify NISOD's mission of improving teaching, learning, and leadership.