#NISODProfiles – Brandie Littlefield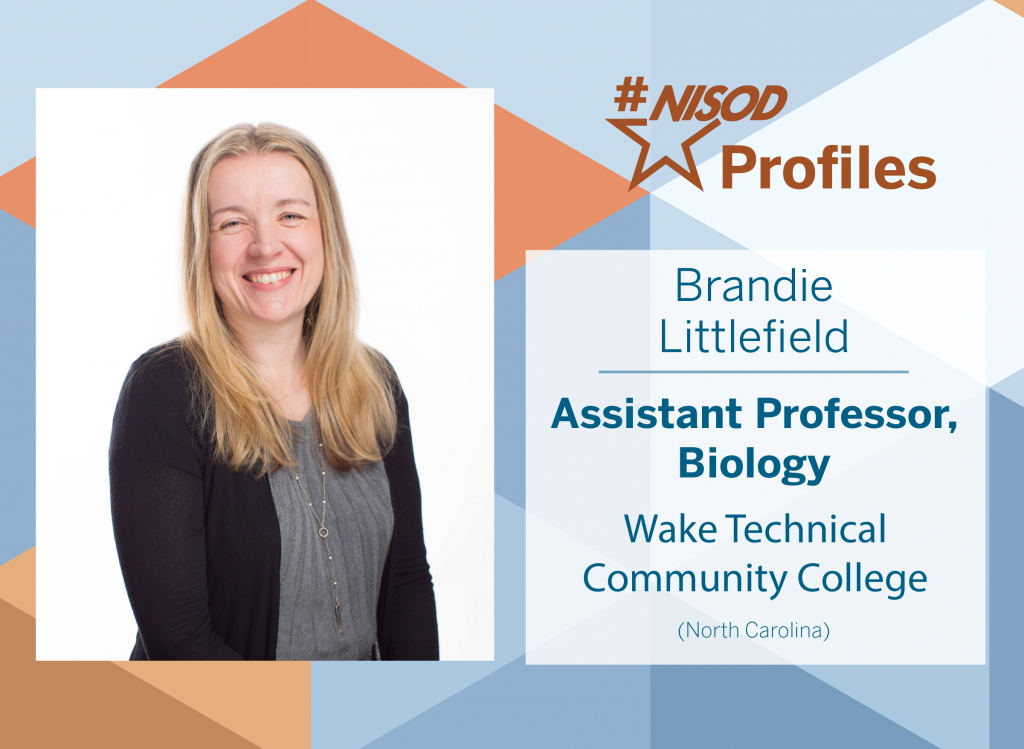 "I strive to create a safe and respectful learning environment where students from all walks of life can come together and learn about biology. My hope is that I provide students with the tools needed to progress on to the next step of their academic careers."
#NISODProfiles | July 16, 2020
How long have you been an educator?
7 years.
What is your favorite part about being a community or technical college educator?
I enjoy interacting with a diverse group of students every day. I strive to create a safe and respectful learning environment where students from all walks of life can come together and learn about biology. My hope is that I provide students with the tools needed to progress on to the next step of their academic careers.
What is your best piece of advice for new or existing colleagues at community or technical colleges in your field?
Commit to achieving a life/work balance. Instructors are notorious for taking work home with them and never finding a means of escape. I still struggle with this issue, but one small step I took was deleting the email app from my phone. Students and administrators should not expect that we are checking our emails all the time. Have a 24-hour turn around policy during the week, but let your students know that you are not available on weekends and holidays. You are allowed to have a life!
How do you connect with your students?
I share stories about myself from grad school – especially my field experiences in Madagascar. I am lucky that I can also tie these experiences into biology concepts. Students are interested in these stories and fascinated by the fact that I lived in a tent for six months. It also humanizes my experiences in the scientific field and gives students a real-world perspective. Science is hardly perfect – there is a lot of failure along the way and it is important to remind students of that fact!
If you could have dinner with anyone, who would it be and why?
David Attenborough. I have always been a huge fan of his documentaries and I show several of his clips in my classroom. I joke with my students that we would be great friends if we could sit around over tea and share stories from the field!
Every month, NISOD profiles faculty and staff from our member colleges who are doing extraordinary work on their campuses. #NISODProfiles offer a direct connection to your colleagues from across the world who exemplify NISOD's mission of improving teaching, learning, and leadership.