#NISODProfiles – Robyn Hayes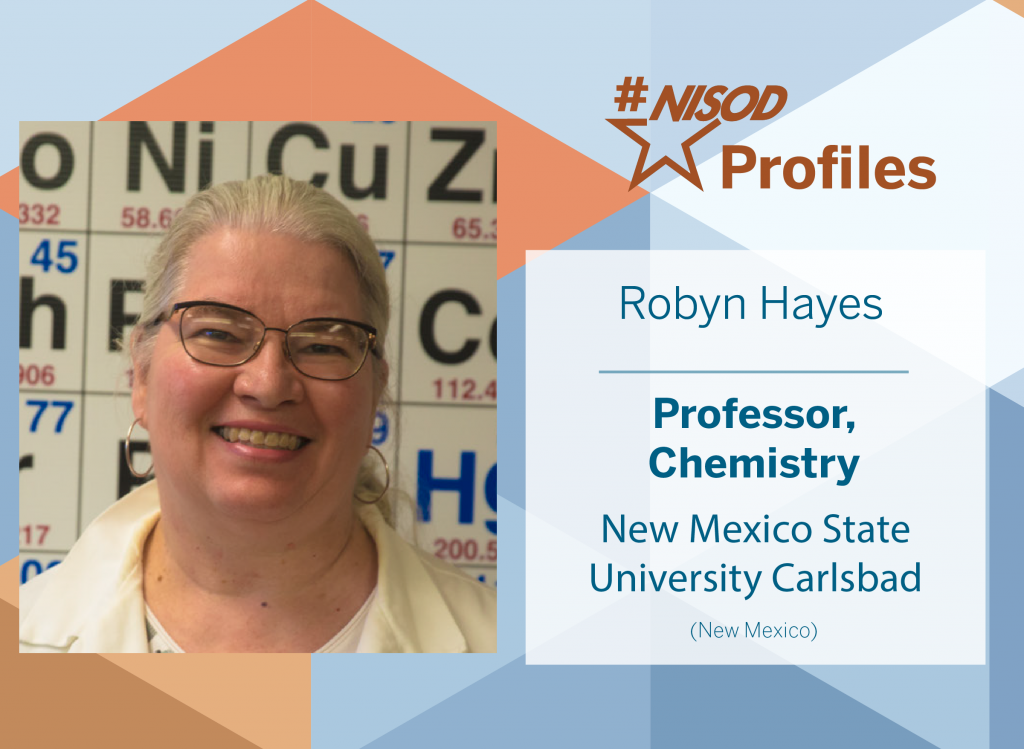 "The smaller, informal classes have allowed me to be part of many students' lives on a deeper level. I see my students at work in our community when I am shopping, at a doctor's appointment, at church, and during public events. I see my students' progress and even watch their children grow up."
#NISODProfiles | May 21, 2020
What is your favorite part about being a community or technical college educator?
The smaller, informal classes have allowed me to be part of many students' lives on a deeper level. I see my students at work in our community when I am shopping, at a doctor's appointment, at church, and during public events. I see my students' progress and even watch their children grow up. I often have siblings in class and, on one occasion, a married couple.
What is your best piece of advice for new or existing colleagues in your field at community or technical colleges?
Do not assume your students know anything about chemistry. A few will know a little, but most will have no clue.
How do you connect with your students?
I introduce myself as a person who came from a lower-middle class family, attended a small, rural public school, and public universities. I ask them about their families when they call or email about family illnesses. I write encouraging notes on returned tests, labs, and assignments.
Share a memorable teaching experience and explain why it was so impactful:
Before teaching at NMSU Carlsbad, I taught at Northern New Mexico College. At NNMC, I had many students from the local pueblos (Native American Tribes). One of these students in particular impressed me with his persistence and tenacity. He started in General Chemistry I and was very shy and uncomfortable in the college environment. He passed with a C. In General Chemistry II, he moved up to a B. He eventually took quantitative analysis and received an A. He earned a degree in Environmental Science from Fort Lewis College. I was reaffirmed in my belief that all students can be successful with encouragement and good resources.
Every month, NISOD profiles faculty and staff from our member colleges who are doing extraordinary work on their campuses. #NISODProfiles offer a direct connection to your colleagues from across the world who exemplify NISOD's mission of improving teaching, learning, and leadership.