#NISODProfiles – Gokarna Gharti-Chhetri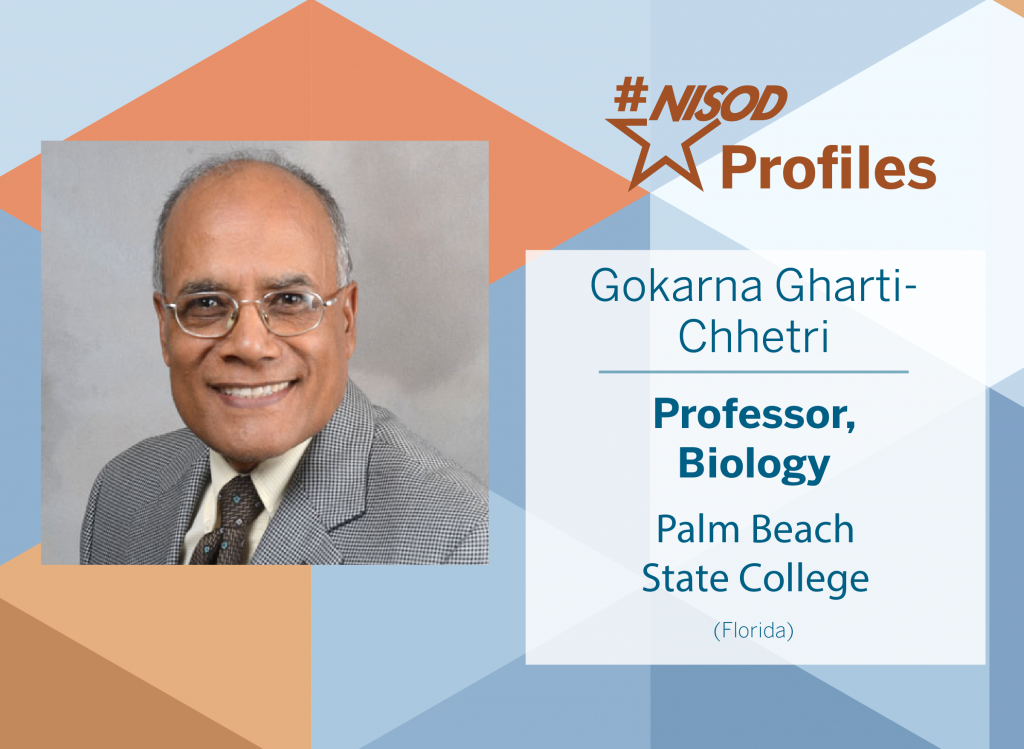 "I ask students to introduce themselves on the first day of class, interview them, and share some of my life experiences with them. I strive to create an atmosphere of mutual respect in the classroom. I encourage class discussion, but also make an effort to engage with each student individually."
#NISODProfiles | May 7, 2020
What is your favorite part about being a community or technical college educator?
I love sharing my knowledge and experiences to bring about change in the lives of students from diverse backgrounds.
What is your best piece of advice for new or existing colleagues in your field at community or technical colleges?
Let us make biological science education interesting and fun by providing examples relevant to students' lives. Let us motivate students to give back to their community through Service Learning Projects.
How do you connect with your students?
I ask students to introduce themselves on the first day of class, interview them, and share some of my life experiences with them. I strive to create an atmosphere of mutual respect in the classroom. I encourage class discussion, but also make an effort to engage with each student individually. I participate in extracurricular activities involving students.
If you could have dinner with anyone, who would it be and why?
I would like to have dinner with the Nobel Laureate Malala Yousafzai. I have read her book, I AM Malala, co-written with Christina Lamb, which is inspirational. Despite continued death threats from Taliban who had control over the Swat district of northern Pakistan, Malala spoke out about the importance of female education. In 2012, at age 15, Malala was shot on her way to school. She survived and sparked a movement across Pakistan that resulted in a ratification of Pakistan's first Right to Free and Compulsory Education Bill (The Malala Fund). She is intelligent and courageous. Here is an impressive quote from her speech at the Girl Summit in London: "Traditions are not sent from heaven, they are not sent from God. It is we who make cultures and we have the right to change it and we should change it."
Every month, NISOD profiles faculty and staff from our member colleges who are doing extraordinary work on their campuses. #NISODProfiles offer a direct connection to your colleagues from across the world who exemplify NISOD's mission of improving teaching, learning, and leadership.