How Excellence Award Recipients Are Celebrated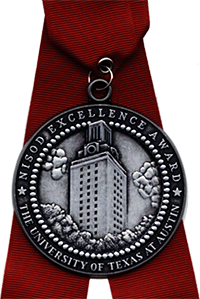 Due to the cancellation of NISOD's 2020 conference, the Excellence Awards Dinner and Celebration will not be held. However, all other recognition will take place.
Excellence Awards Medallion
The specially cast, pewter medallions are hung on a burnt-orange ribbon and provided to each recipient.
Excellence Awards Certificate
Each Excellence Award recipient receives a personalized Excellence Awards Certificate suitable for framing.
Excellence Awards Booklet
A special awards booklet lists the names, titles, and colleges of all Excellence Award recipients and features congratulatory ads from NISOD-member colleges. Ads can be purchased here.
Excellence Awards Web Page
A list of Excellence Award recipients is displayed on NISOD's website to recognize this prestigious group.
Statements and Photos
Excellence Award recipients' statements and photos are displayed on NISOD's website and featured throughout the year in our weekly newsletter as well as on our social media channels.
Excellence Awards Dinner and Celebration (Cancelled for 2020)
Each spring during its signature annual conference, NISOD hosts one of the most prestigious and well-attended events for community and technical college educators. This is an emotional celebration that Excellence Award recipients and their colleagues and families will not want to miss!
Innovation Abstracts
Excellence Award recipients receive a special invitation to author an Innovation Abstracts, NISOD's flagship teaching and learning publication written by and for community and technical college practitioners.
Since 1991, NISOD has been honored to recognize community and technical college faculty, administrators, and staff for their achievements and contributions to their institutions. The work of these men and women includes not only what they do for their campuses, but what they do for students and the communities in which they live and work. NISOD is honored to be able to recognize and celebrate such outstanding individuals.