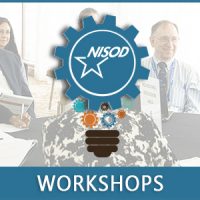 Emergence, Not Exhaustion: Sustainable Teaching in Online Environments

"Depleted." "Just plain worn out." As the COVID crisis caused a larger proportion of faculty members to teach remote courses than ever before, accounts of teacher fatigue and feeling overwhelmed are rife. Many professional development opportunities offer advice about the optimum use of technological tools, but most do not focus on ways to make online teaching less exhausting and more sustainable for teachers.

This workshop helps new and experienced online instructors understand the features of online practice that contribute to teacher burnout. Participants learn about specific, actionable strategies for reducing their workload without sacrificing student engagement and success.

Before

Emergence as a planning principle
Reframing "content"
Formative versus summative teaching

During

Managing personality
Managing time and timeliness
Managing community
Managing feedback

After

Avoiding "Groundhog Day": Invigorating the iterative
Lasting lessons of emergence
Practitioner troubleshooting and reflection

About the Facilitator

Dr. Nicole Matos has enjoyed a 20 year career in American higher education as a professor, administrator, commentator, and consultant. A former community college student herself, she is currently Professor of English at the College of DuPage in suburban Chicago and a particular specialist in the community college sector. With repeated credits in The Chronicle of Higher Education, Inside Higher Ed, and Pedagogy Unbound, and as a former columnist for CHE Vitae, Nicole is widely published on faculty development topics, including improving online and blended instruction, best practices in developmental education, the faculty role in Guided Pathways, and healing relationships between administration and faculty. She is nationally experienced as a keynote speaker, workshop facilitator, communications strategist, and content editor.