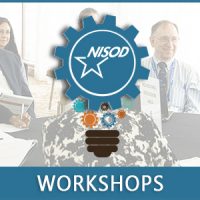 Scheduling for Stability and Growth in Uncertain Times

This workshop explores a range of innovative scheduling practices and strategies that provide greater clarity, consistency, and stability for students and faculty alike, particularly in times of uncertainty and institutional disruption. At its core, strategic scheduling seeks to bring campus stakeholders together to ensure that students have access to the courses they need for degree completion and advancement. While that sounds simple enough, in reality, scheduling remains a complex, highly decentralized process at most institutions, one often driven by operational needs rather than strategic or pedagogical priorities.

Building on real-world examples from multiple institutional contexts, this workshop offers faculty members, program directors, department chairs, and other academic leaders concrete, yet creative solutions for implementing strategic scheduling practices. Participants explore the many benefits of strategic scheduling, including increased flexibility for faculty and students, improved retention and completion rates, greater efficiency using resources, enrollment growth, and increased levels of engagement. Participants complete a number of activities designed to help them develop and implement various scheduling strategies in ways that fit their particular institutional needs and priorities.

The workshop also considers a range of topics relevant to institutions hoping to develop course offerings that can easily pivot in response to COVID-19, including compressed, modular, and accelerated term lengths, as well as hybrid and high-flex models. A variety of innovative student support structures are also considered, including using "completion camps" and "pass-pause-reset" contracts.

Because effective strategic scheduling requires the engagement of a wide range of campus stakeholders—including faculty, department chairs, academic deans, advisors, and operational and support staff from multiple areas—all are welcome to participate! No previous experience with strategic scheduling processes or practices is required.

Introduction to Strategic Scheduling and Key Principles
This module provides participants with an overview of strategic scheduling, including the main benefits of such initiatives, as well as the fundamental tools needed to jump-start the process at their own institutions. Discussed are real-world examples of scheduling strategies in action, including specific ways such strategies can be applied at the course, department, and college levels. At the end of the session, participants receive a digital copy of The Strategic Scheduling Playbook, along with suggestions for next steps they can implement immediately.

Overview of strategic scheduling

Definitions, benefits, and key metrics

Strategic scheduling in action

Examples of cross-disciplinary and collegewide approaches

Laying the foundations for strategic scheduling at your institution

Note: Participants will be provided additional optional activities.

The Strategic Scheduling Playbook
Building on previously introduced principles, this part of the workshop focuses on reviewing and applying a range of strategies outlined in The Strategic Scheduling Playbook. Participants who completed the optional activities above have an opportunity to share their examples and receive feedback. Participants also examine the issue of course sequencing in greater depth, as well as the role that alternative term lengths and modalities play in enhancing the overall mix of campus offerings. They also consider how strategic scheduling can improve a variety of "pivots" colleges must consider in the face of changing conditions—particularly in the era of COVID.

Overview and highlights from The Strategic Scheduling Playbook
Moves, tools, and best practices across institutional contexts
Course sequences and pathways

Alternative term lengths and modalities

Preparing for the unexpected

Scheduling abbreviated-terms
Completion camps
Accelerated models

Note: Participants will be provided additional optional activities.

Implementing a Campuswide Strategic Scheduling Plan
This culminating part of the workshop focuses on developing and sustaining a strategic campuswide scheduling plan, and touches on some of the larger institutional challenges and opportunities for such work. Because so many different college stakeholders have a hand in schedule development, participants explore the importance of cross-functional teams in guiding such efforts. They also explore how schedule development can be holistically integrated into other critical college processes, including strategic enrollment management, new program development, program and collegewide assessment, institutional planning, and budgeting. Participants who completed the above optional planning activity have an opportunity to receive feedback on their drafts.

Developing and launching a strategic scheduling plan
Creating a strategic scheduling team
Identifying priorities and assessing progress

About the Facilitator

Dr. Sheldon Walcher
Sheldon Walcher has over 25 years of teaching and administrative experience in a wide range of higher education settings. He earned his MFA in creative writing Penn State University, and worked as an adjunct instructor at Salt Lake Community College while completing his PhD in Rhetoric and Composition at the University of Utah. He spent a year as a visiting professor in the Rhetoric, Writing, and Linguistics Department at the University of Tennessee at Knoxville before joining the faculty at the University of Southern Mississippi, where he also served as director of composition. He was named founding director of the Writing Program at Roosevelt University in Chicago, where he  taught graduate courses in composition theory, digital rhetoric, and pedagogy.

After deciding to transition to full-time administration, Sheldon completed the MS in the Higher Education Administration and Policy at Northwestern University, where he also served as a Senior Research Fellow at the Searle Center for Advancing Teaching and Learning. He became Associate Dean of English and Academic ESL at College of DuPage, then Associate Dean of Humanities and Social Sciences at Kankakee Community College, before assuming his current role as Dean of Communication Arts, Humanities, and Fine Arts at the College of Lake County in suburban Chicago.