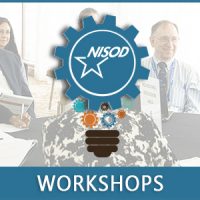 Building a Culture of Reflection

When faculty members meet colleagues in the hall or at the copy machine, they get a chance to have quick conversations about something that happened in their respective classrooms. However, faculty members rarely have the opportunity to sit down and work collaboratively to improve their teaching practices. During this workshop, participants experience what it feels like to be a member of a Reflective Practice Group. Using the School Reform Initiative's "Critical Friendship" model, workshop participants become familiar with several protocols to raise educational equity issues, as well as foster inter-colleague discussions to improve teaching practices. Participants also have the chance to share a current professional concern and receive feedback from their peers.

By the end of this workshop, participants know or are able to:

Explain how educational equity matters in your personal academic context.
Understand how the suggested protocols can change the way educators talk about best practices.
Analyze how the Critical Friends model can be used on your campus.
Evaluate which types of questions are most thought-provoking and elicit best teaching practices.
Produce your own probing questions to improve pedagogical practices.

Activities:

Develop "shared agreements" for courageous conversations with colleagues.
Share and reflect on a current problem in your pedagogical practice.
Give and receive feedback on current teaching practices in a supportive environment.
Use structured protocols to create a space for productive conversations about teaching.
Identify ways to bring the workshop's learning outcomes into your own classroom's context.

Background Information:

Reflective Practice Groups are sustained professional development groups that use skilled facilitation and structured conversations to generate collegial collaboration in order to improve student learning. In the 1990s, the founders of the School Reform Initiative (SRI) developed the Critical Friends model for faculty to discuss teaching concerns, student work, and lesson plans in a supportive collegial environment. Today, the SRI's mission is to create professional learning communities that are "fiercely committed to educational equity and excellence." Although there is significant research in the K-12 world suggesting that teachers who learn together over time can improve their practice and their students' learning, the SRI model is not yet used at many colleges. Participants in this workshop learn why learning together matters so they can implement the model on their respective college campuses.

About the Facilitator

Gena Merliss is Coordinator of Monroe Community College's Teaching and Creativity Center. Gena works with faculty to develop critical reflection in order to improve instruction and student learning. Prior to her current role, Gena taught developmental math and integrated reading and writing as an Assistant Professor. In that position, Gena experimented with many different strategies to help students develop non-cognitive skills and self-awareness. Gena earned a Master's degree in Education from the University of Pennsylvania. She also holds a Bachelor's in Biological Anthropology from Swarthmore College.