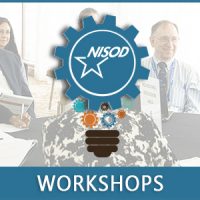 Emotional Intelligence, Student Efficacy, and the Growth Mindset

Have you ever wished you could change your students' attitudes toward more positive engagement in their learning? YOU CAN! The secret rests in appreciating that all of us have a profound impact upon the emotional state of the students that we engage with every day. Whether interacting with individuals or groups, the neuroscience is clear: The affective domain powerfully impacts student cognition, persistence, motivation, and performance. During this multidimensional, highly-interactive, experiential, and fun workshop, participants explore ways to promote positive, enthusiastic, and engaged collaboration among students. They also explore how to encourage student learning in a manner that maximizes motivation, a sense of inclusion, and equity within the learning environment!

The workshop includes PowerPoint slides, stories, video, breakout room activities, and opportunities for full group discussions, all of which allow participants to interact with each other and process the information in a fast moving and fun format.

Demonstrate the impact of emotion on learning.
Create positive learning outcomes associated with respectful and affirming relationships.
Identify, nurture, and develop talents, rather than focus on weaknesses.
Understand how positive emotions expand cognition and creativity.
Understand how the affective domain profoundly influences persistence and practice compassionate correction.
Apply premises behind the "Growth Mindset" and growing intelligence to our learning environments.

About the Facilitator

David R. Katz III retired as the Executive Director of Organizational Development at Mohawk Valley Community College, where he completed a 38-year teaching, coaching, and leadership career. Upon his retirement in 2019 David was awarded Professor Emeritus status and he was selected into the MVCC Hall of Fame. As MVCC's Executive Director David created, implemented, and oversaw programs aimed at developing a vibrant culture of personal and professional enrichment that reinforced organizational goals focused around student success, inclusion, and empowerment.

David was also directly involved in mentoring faculty and staff on pedagogical, motivational, and leadership issues at venues including MVCC; community college campuses throughout America; national educational conferences; and to public and corporate audiences. This is now his primary professional pursuit and passion. David holds an associate's degree in Liberal Arts from Camden County Community College, a bachelor's degree from the University of Massachusetts with a major in Political Science and a minor in Secondary Education, and a master's degree in Political Science from Villanova University.