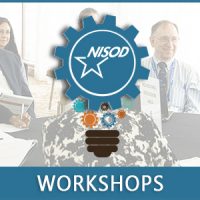 The Age of Artificial Intelligence and Learning

This workshop explores how Conversation Design and Artificial Intelligence Technology will impact tomorrow's classrooms. During the workshop, participants delve into the various aspects of AI and Conversational Design and consider how these power elements influence the creation of learning content and learning experiences.

By the end of this workshop, participants know or are able to:

Gain a deeper understanding of how Chat Bots and other AI elements are influencing learning environments.
Explore current examples of how conversational design and AI are changing learning environments.
Understand the power of mapping the student experience.
Understand the multidimensional aspects of AI.
Understand how your classroom interactions and conversations are linked to the creation of AI Chat Bots.
Understand how your student interactions and experiences are linked to the creation of an AI element.
Explore ways to integrate new AI technologies to enhance classroom engagement and retention.
Explore the ethical implications of AI technology.

About the Facilitator

Dr. Judith Cardenas' academic background includes a doctorate in education administration, as well as a doctorate in training and performance improvement. She has completed a variety of postdoctoral trainings, including leadership development at Harvard University's John F. Kennedy School of Government and human performance improvement at the American Society for Training and Development and Human Capital Analytics. In addition, she holds a certification as a Registered Business Coach, is a Certified Professional for Return on Investment from Villanova University, Certified Neuro Coach in the areas of change, transformation, and agility from Harvard University, and is a Certified Professional in Innovation of Products and Services from MIT.

Dr. Cardenas' background includes roles in executive management and oversight of large public institutions where her duties entailed leading a $146 million operational budget plus an additional $30 million of federal funds, $10 million foundational endowment, and a 3,000-employee base. In addition to her diverse expertise in higher education, she has created and delivered training to organizations such as World Bank, United Nations, QVC, Inc., Phillips Semiconductor, the United States Navy, the United States Nuclear Regulatory Agency, and the United States Army.