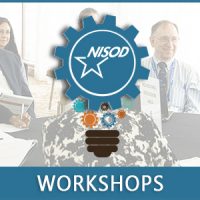 Searching for Tangible Evidence of Critical Thinking Skills

Do you ever feel like you are lost in space in your own classroom, looking for evidence of intelligent life? Workshop participants explore their current practices in the classroom that encourage critical thinking skills. After watching videos of and participating in hands-on examples of critical thinking exercises, workshop participants create their own exercises to ensure higher-level critical thinking among their students.

By the end of this workshop, participants know or are able to:

Clarify the meaning of critical thinking in higher education and employment environments, including the most recent research about employers' desire for graduates who possess critical thinking skills.
Evaluate teaching "scenes" from a selection of film clips and identify common mistakes teachers make when trying to elicit critical thinking responses from students.
Review and apply the "Seven Valuable Intellectual Traits" identified by the Foundation for Critical Thinking.
Practice strategies that indicate evidence of critical thinking in the classroom and in assignments.
Observe and use Discussion Question Requirements, Diversity Day, Daily Exit Cards, the One-Minute Paper, the Interview Assignment, Annotation Station, and Question Fishbowl.

About the Facilitator

Sean J. Glassberg, the recipient of the 2013 TYCA-Southeast Cowan Award for Teaching Excellence and the 2007 Professor of the Year at Horry Georgetown Technical College, has over 20 years of academic and professional experience, ranging from teaching English at community colleges and universities to training industry and technical professionals to become educators.

Coming from a family of educators has provided Sean with a solid foundation of best-teaching practices. His master's degree in Special Education and experience with children with disabilities have enabled Sean to respond to a wide spectrum of learners. His passion to help others in and out of the classroom led him to found Racers for Pacers, a non-profit organization with a mission to include children with disabilities in the running community.