#NISODProfiles – John R. Brannen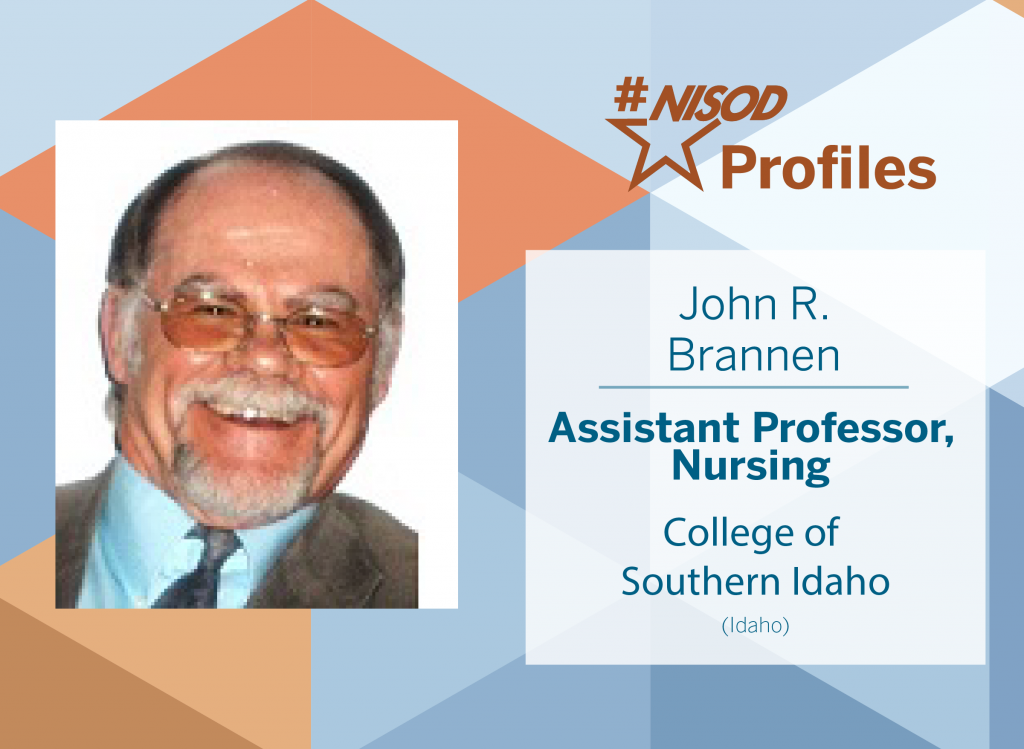 "My goal is to produce a nurse who is mature, self-directed, emotionally intelligent, capable of deep thinking, and most of all, has a heart. I have been given two natural gifts: The gift of expression and the gift to inspire. By sharing those gifts, it is my hope that students will gain these qualities and pass them on."
#NISODProfiles | July 2, 2020
What is your favorite part about being a community or technical college educator?
Students who are unable to attend a university or larger institution have the opportunity to pursue their dreams locally at a lower cost. First-generation college students and non-traditional students have a supportive and nurturing atmosphere in which to reach their dreams. I appreciate that my classes are smaller, which allows me to get to know my students better and provide them with the personal tools they need for success.
What is your best piece of advice for new or existing colleagues at community or technical colleges in your field?
Read the Four Agreements by Don Miguel Luis. Have a passion for what you do and for the success of others.
How do you connect with your students?
I help students open doors by providing learning tools. I love interacting with students and helping to nurture lifelong active learners and caring nurses. I take a holistic approach to teaching that engages students physically, mentally, emotionally, and spiritually to become the person they were meant to be.
All I ask is what Virginia Henderson stated: "Let my intentions be honest, respectful, humble, and loving." I share my personal misadventures with students to let them know that we are all fallible and human. My goal is to produce a nurse who is mature, self-directed, emotionally intelligent, capable of deep thinking, and most of all, has a heart. I have been given two natural gifts: The gift of expression and the gift to inspire. By sharing those gifts, it is my hope that students will gain these qualities and pass them on.
Share a memorable teaching experience and explain why it was so impactful.
I had a young mother in my program who was barely passing. In the middle of the term, she had to drop out to have her second child. She had already failed one course, and students are only allowed to fail two courses in our program. I spent many hours talking to her about how self-esteem, not intelligence, is often reflected in grades. We practiced self-esteem and relaxation techniques, but when she took the NCLEX practice exam, she received the lowest score we had ever seen in our program. We met for one last time, and I told her to do at least 1,000 practice questions a week before she took the NCLEX for licensure. She did as I instructed, and with the odds against her, she passed on the first try! She is now settled in a new city with her family and enjoying her life as she should. What a joy to be part of that!
If you could have dinner with anyone, who would it be and why?
My father, because I still have so many things to talk to him about. He was a quiet man with a deep understanding of how things worked. He also was the courier for the Manhattan Project and in charge of security for the Roswell Incident. I have questions!
Every month, NISOD profiles faculty and staff from our member colleges who are doing extraordinary work on their campuses. #NISODProfiles offer a direct connection to your colleagues from across the world who exemplify NISOD's mission of improving teaching, learning, and leadership.