#NISODProfiles – Aimee Kelly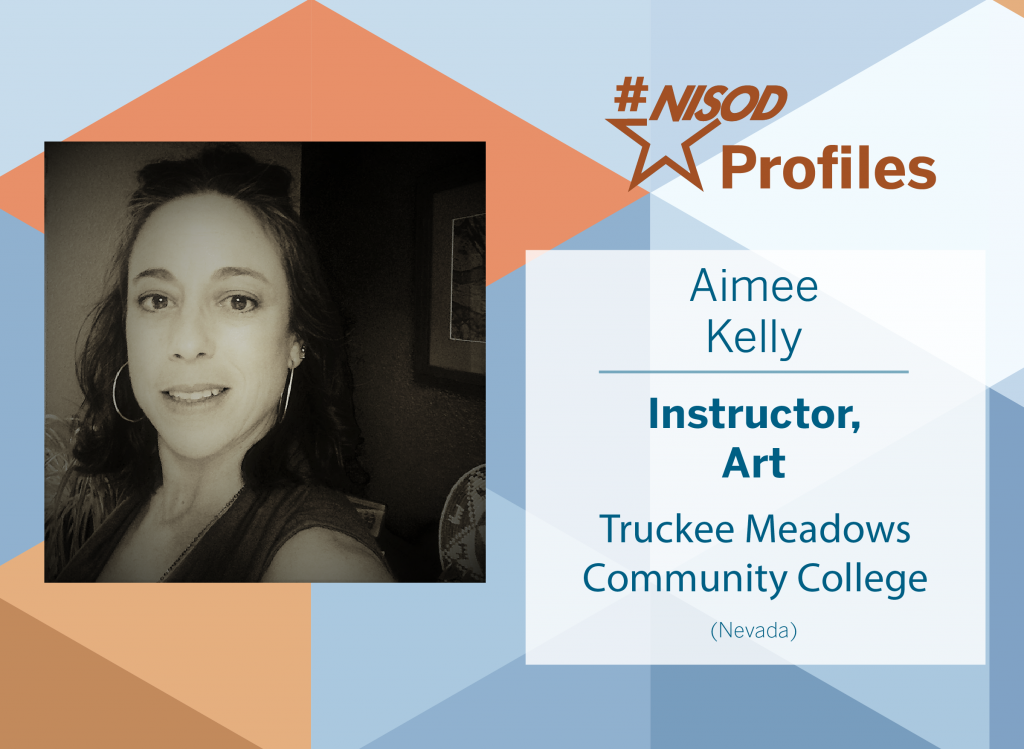 "Remember what it was like to sit in a classroom and feel like a nameless member of the masses? Try to get to know your students a little bit. When we feel like someone cares about us, we are all more receptive."
#NISODProfiles | June 4, 2020
What is your favorite part about being a community or technical college educator?
The atmosphere is really positive here at TMCC, and in the art department we all help each other. This family-like atmosphere allows students to relax a bit and not be intimidated. Working with my students is my favorite part of my job. To be a part of their growth and watch them improve their skills and build confidence in their abilities is so rewarding.
What is your best piece of advice for new or existing colleagues in your field at community or technical colleges?
Remember what it was like to sit in a classroom and feel like a nameless member of the masses? Try to get to know your students a little bit. When we feel like someone cares about us, we are all more receptive.
How do you connect with your students?
I teach Gallery Practices, a course on the ethics and methods of running an art gallery. Due to the nature of the class, there are no desks, papers to be written, or exams –it is all real-world, hands-on activities. I keep it real and try to learn my students' goals, that way I can explain the material in my class in a way that is more relevant for them.
If you could have dinner with anyone, who would it be and why?
I would have dinner with my Nana, but only if she's cooking! She was born in 1908 and passed away in 2001. She was a wealth of experiences and knowledge, so I would love another chance to ask her questions. Also, being Italian she was an awesome cook!
Every month, NISOD profiles faculty and staff from our member colleges who are doing extraordinary work on their campuses. #NISODProfiles offer a direct connection to your colleagues from across the world who exemplify NISOD's mission of improving teaching, learning, and leadership.