#NISODProfiles – Sadhana Ray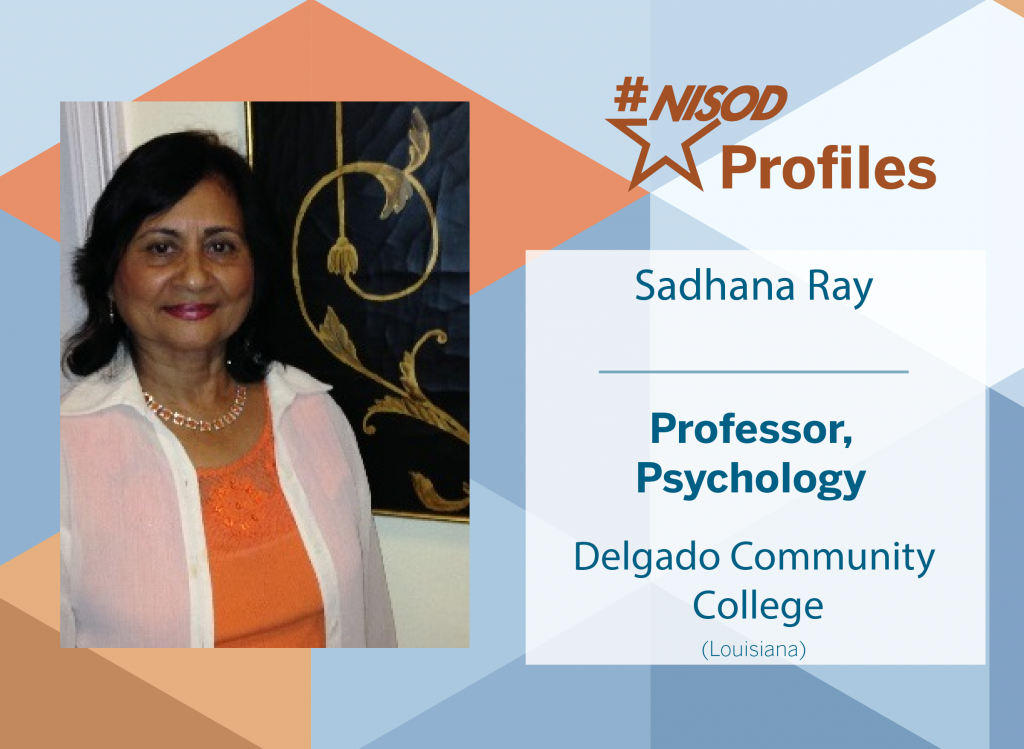 "I bring my own life experiences to the classroom to help students relate to me. Involving students in college events, encouraging them to participate, volunteer services, and learn from those experiences helps connect us as a community."
#NISODProfiles | September 24, 2020
How long have you been an educator?
17  years.
What is your favorite part about being a community or technical college educator?
Being able to interact with students from diverse backgrounds with diverse needs and challenges motivates me to develop skills to address this diversity.
What is your best piece of advice for new or existing colleagues at community or technical colleges in your field?
Be a good listener, be approachable to students, and try to be accommodating to the life challenges students may be going through.
How do you connect with your students?
I bring my own life experiences to the classroom to help students relate to me. Involving students in college events, encouraging them to participate, volunteer services, and learn from those experiences helps connect us as a community.
Share a memorable teaching experience and explain why it was so impactful.
I am involved in many social-cultural community events for my ethnic background. I invited students to attend or volunteer at these events to experience a different culture. The students participated, learned new cultural norms and values, and developed a respect for my culture. Students then used this experience to write essays based on theoretical concepts from a cross-cultural perspective.
Every month, NISOD profiles faculty and staff from our member colleges who are doing extraordinary work on their campuses. #NISODProfiles offer a direct connection to your colleagues from across the world who exemplify NISOD's mission of improving teaching, learning, and leadership.