#NISODProfiles – Lillian Huerta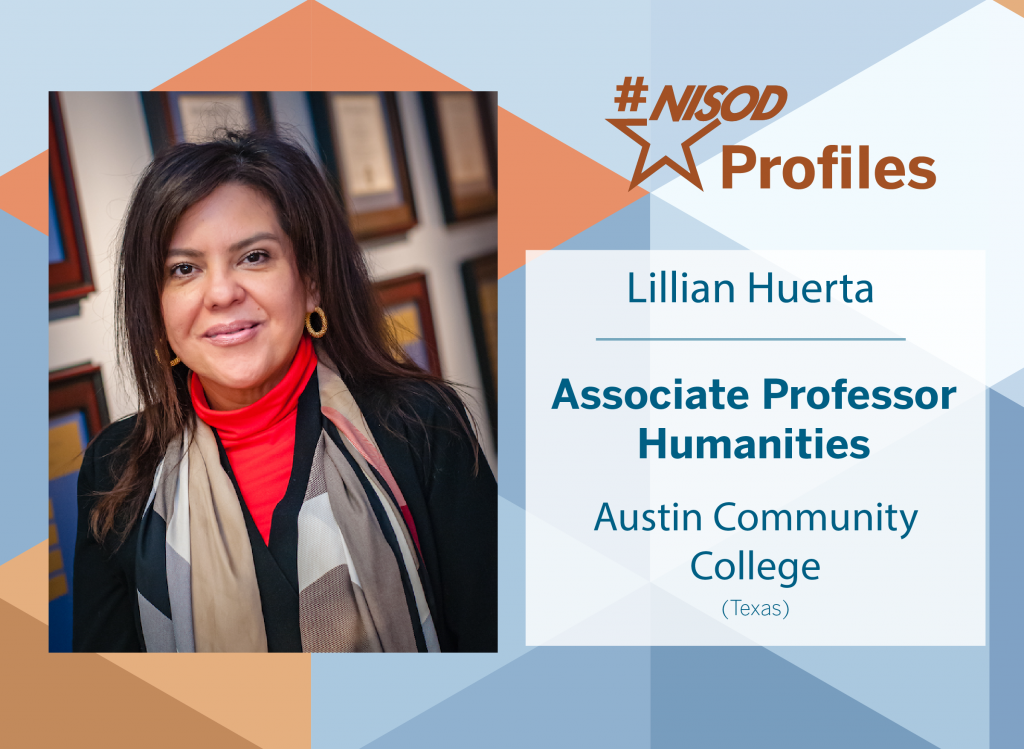 "I love serving as a link for the community and meeting students who represent diversity in its rawest form. They all come with unique stories and challenges, and to be part of their dynamic stories is challenging, yet inspiring!"
#NISODProfiles | October 22, 2020
How long have you been an educator?
Ten years.
What is your favorite part about being a community or technical college educator?
I love serving as a link for the community and meeting students who represent diversity in its rawest form. They all come with unique stories and challenges, and to be part of their dynamic stories is challenging, yet inspiring!
What is your best piece of advice for new or existing colleagues at community or technical colleges in your field?
Remember why you are here and hold on to that passion!
How do you connect with your students?
My students and I engage in community service projects such as cleaning up a local park. We get to spend some time outside of class bonding and making the world a better place. It breaks barriers and opens the lines of communication. My students see me in a different light and I see them in a different light.
Share a memorable teaching experience and explain why it was so impactful.
I serve as a volunteer ESL and GED instructor. I recall a student in her 60s who was learning to read. She had a story that would break anyone's spirit, but she rose above so much and was always humble and giving. She would bring food to class or sew a classmate's daughter's prom dress. When she read to the class for the first time everyone broke out into tears. We all felt like we were reading for the first time. It was a bonding experience that I carry with me, especially when I feel stressed. I keep reminding myself why I'm here and my passion lights up again.
If you could have dinner with anyone, who would it be and why?
Oh wow! Frida Kahlo and after dinner, I would want her to paint my portrait all while talking about love and politics.
Every month, NISOD profiles faculty and staff from our member colleges who are doing extraordinary work on their campuses. #NISODProfiles offer a direct connection to your colleagues from across the world who exemplify NISOD's mission of improving teaching, learning, and leadership.