#NISODProfiles – Angela Hager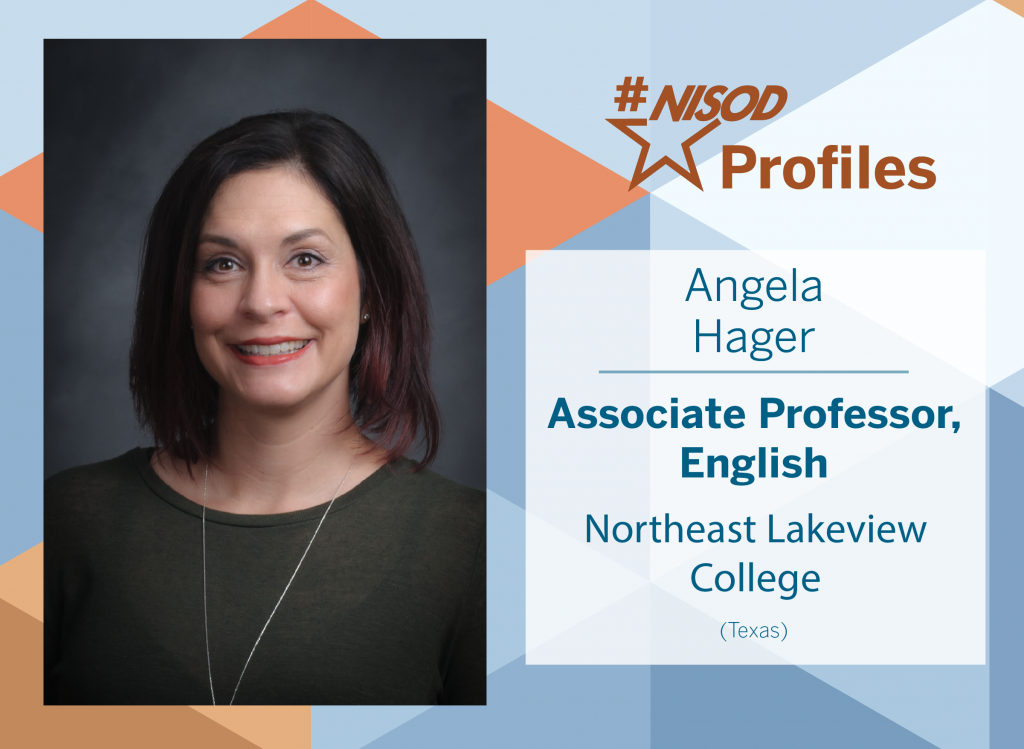 "Regardless of their age, students who attend community college are changing the trajectory of their lives. Many are unprepared, some have failed before, others have personal responsibilities that ten people could hardly shoulder…and all of them are at the start of a new way of life."
#NISODProfiles | March 26, 2020
How long have you been an educator?
14 years.
What is your favorite part about being a community or technical college educator?
Ralph Waldo Emerson once said, "the office of the scholar is to cheer, to raise, and to guide men by showing them facts amidst appearances." This is how I view my role as a professor at a community college. I am here to guide my students as they learn the skills of rhetoric, composition, and research. I inspire them to appreciate literature that often seems too difficult to understand on first read. While I thrive and excel at these academic activities, I find the most satisfaction in cheering on my students. Regardless of their age, students who attend community college are changing the trajectory of their lives. Many are unprepared, some have failed before, others have personal responsibilities that ten people could hardly shoulder…and all of them are at the start of a new way of life.
What is your best piece of advice for new or existing colleagues in your field at community or technical colleges?
Do not be overwhelmed by assessment, professional development, pilot programs, peer review, or new initiatives. Keep your eyes on teaching your students. Learn from them as they do from you. The joy of teaching at a community college is the earnest desire of the students to better themselves. Be there for them first, even if a new, shiny, best-practice initiative calls for your attention!
How do you connect with your students?
I encourage, I congratulate, I comfort. I get to know more than just my students' names and grades. I assist them in any way I can toward employment, scholarships, awards, and recognition. My office hours are a place to get one-on-one tutoring for an essay, and sometimes a place to laugh together, cry, or ask for advice.
Share a memorable teaching experience and explain why it was so impactful.
For several years, I served as the accreditation liaison at my college. The semester I returned to my faculty position was the very best semester of my career. It was a real joy to be back in the classroom, watch the light bulbs turn on, and mentor students. There have been very few days since then that I have left work feeling anything but satisfied at a job well done. Sometimes you have to step away from something to recognize it as your calling!
Every month, NISOD profiles faculty and staff from our member colleges who are doing extraordinary work on their campuses. #NISODProfiles offer a direct connection to your colleagues from across the world who exemplify NISOD's mission of improving teaching, learning, and leadership.