#NISODProfiles – Rosa Carrasco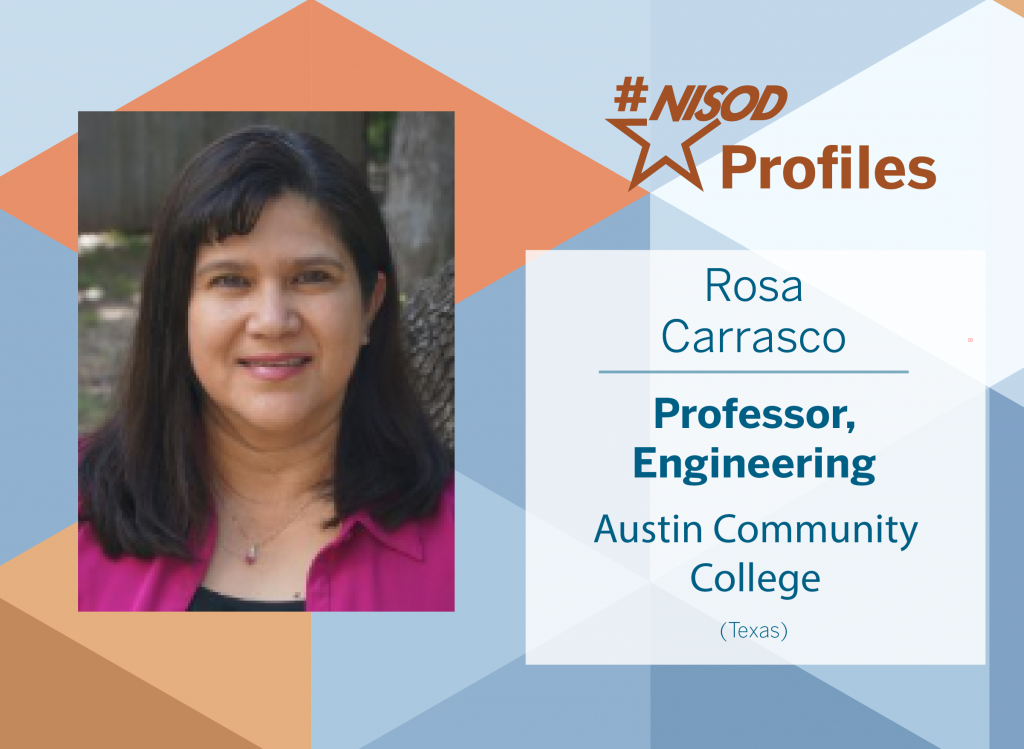 "Because we only have each group of students for one semester, we should take teaching seriously and encourage students to continue their education."
#NISODProfiles | March 12, 2020
How long have you been an educator?
Eight years.
What is your favorite part about being a community or technical college educator?
I love mentoring and teaching students about electronics. I am able to share my past career experience and explain how it relates to the field they are entering.
What is your best piece of advice for new or existing colleagues at community or technical colleges in your field?
I tell my colleagues that because we only have each group of students for one semester, we should take teaching seriously and encourage students to continue their education.
How do you connect with your students?
From day one, I let them know that they will work hard and learn a lot in my class, but that I want them to succeed. I tell them to learn as much as possible about their career by researching it on the Bureau of Labor Statistics website. I stress the importance of a resume and creating an account on Linkedin. I make myself available to help and listen as much as possible.
Share a memorable teaching experience and explain why it was so impactful.
A past student came to Austin Community College after dropping out of a four-year university. He felt like ACC was his last chance to finish his education and become an engineer. He was a bright student who just needed encouragement to succeed. I told him that the 80-year-old version of himself would not care how long it took to achieve his dream. He graduated from ACC and returned to a four-year university to study engineering. I saw myself in students like him. I didn't have the university experience they did, but I also pursued my dream of being an engineer.
Every month, NISOD profiles faculty and staff from our member colleges who are doing extraordinary work on their campuses. #NISODProfiles offer a direct connection to your colleagues from across the world who exemplify NISOD's mission of improving teaching, learning, and leadership.