#NISODProfiles – Noreen Templin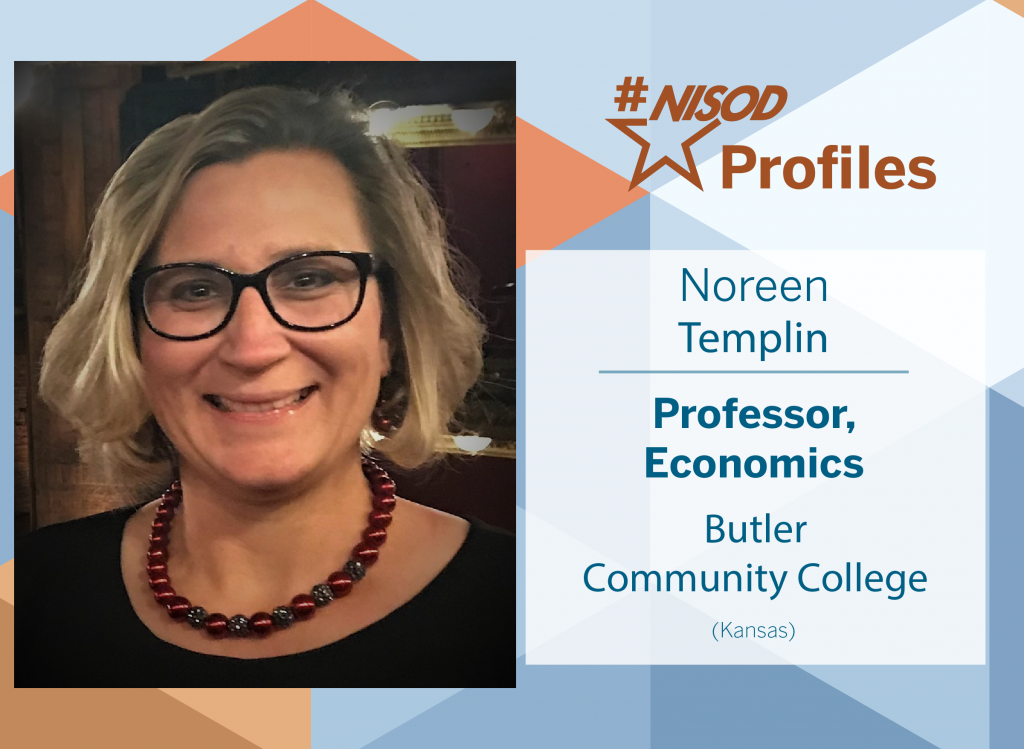 "The best part of being a community college educator is teaching. I have the privilege of interacting with and getting to know my students on a daily basis."
#NISODProfiles | February 27, 2020
How long have you been an educator?
20 years.
What is your favorite part about being a community or technical college educator?
The best part of being a community college educator is teaching. I have the privilege of interacting with and getting to know my students on a daily basis.
What is your best piece of advice for new or existing colleagues at community or technical colleges in your field?
Be a positive influence and supporter of other faculty. Be passionate about your class topic and about reaching your students. Eat chocolate. Drink coffee.
How do you connect with your students?
I spend time learning their names and talking with them about their lives before and during class. I ask them to give examples from their lives about the concepts we study.
If you could have dinner with anyone, who would it be and why?
I would have dinner with Stacey Cunningham, because last year she became the first woman president of the New York Stock Exchange in its 226-year operation.
Share a memorable teaching experience and explain why it was so impactful.
One term, I introduced my students to a computerized buying and selling game. After they were familiar with the rules, I set a minimum price, which caused some students to be unable to sell. One student grew increasingly frustrated with his inability to sell and finally yelled out to the class that he wanted to make a deal outside of the game. At that moment, I realized that my students understood the concepts from a real-world scenario better than I could explain it from the graphs in a lecture.

Every month, NISOD profiles faculty and staff from our member colleges who are doing extraordinary work on their campuses. #NISODProfiles offer a direct connection to your colleagues from across the world who exemplify NISOD's mission of improving teaching, learning, and leadership.