#NISODProfiles – Kristine Schock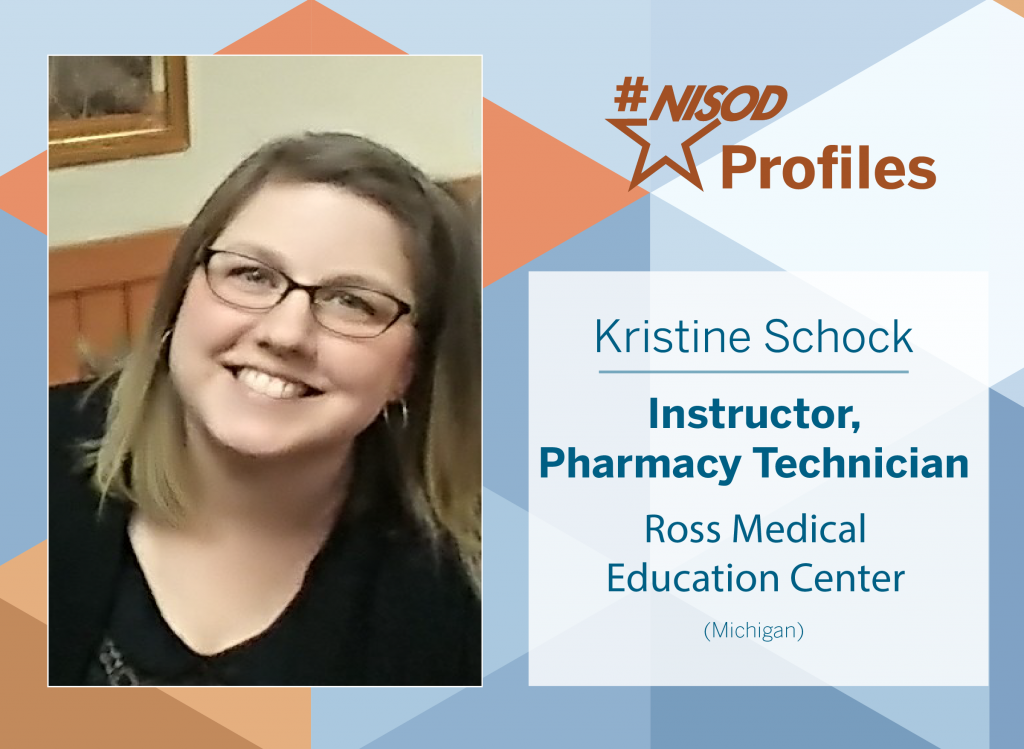 "The feeling you get when a student grasps something that you have been teaching or demonstrating never gets old."
#NISODProfiles | October 24, 2019

How long have you been an educator?
One year.
What is your favorite part about being a community or technical college educator?
I enjoy helping students achieve their goal of starting a new career.

What is your best piece of advice for new or existing colleagues at community or technical colleges in your field?
I would encourage instructors to incorporate different styles of teaching into their pedagogy in order to reach each student individually. Try to include simulation, demonstration, and hands-on activities that will help students understand the concepts being taught.

How do you connect with your students?
I work hard to establish mutual respect early on with my students by being forthcoming with information and expectations. When your students see that you are prepared to be their teacher, they are more likely to respond by being prepared to learn.

Share a memorable teaching experience and explain why it was so impactful.
I haven't been teaching for very long, but one of the most memorable experiences thus far was helping students make their first IV (intravenous) medication. The look of accomplishment on their faces afterwards was so encouraging. The feeling you get when a student grasps something that you have been teaching or demonstrating never gets old. When you experience it for the first time, you remember.
Every month, NISOD profiles faculty and staff from our member colleges who are doing extraordinary work on their campuses. #NISODProfiles offer a direct connection to your colleagues from across the world who exemplify NISOD's mission of improving teaching, learning, and leadership.