The Generational Disruption of Community Colleges
Bergen Community College at the Meadowlands
Skyline Room, 5th Floor
1280 Wall Street West
Lyndhurst, NJ 07071-3517
Baby Boomers. X'ers. Millennials. And probably soon, America's next generation. For community colleges, each generation brings unique challenges and unique opportunities for administration; instruction, fundraising and development, alumni relations, human resources, marketing, business and community relations, and every other key component of higher education. Well, this workshop introduces you to Generational Classroom Strategies and returns you to campus equipped with actionable tips and tactics that ensure the robust future of your college and the success of your students.
The workshop will be led by Chuck Underwood (see below).
Participants receive a Certificate of Attendance upon completing the workshop.
This workshop is also being offered in Austin, Texas on October 20, 2017. Click here to learn more about the Austin workshop.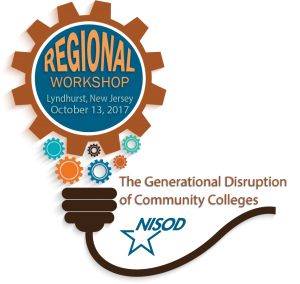 Chuck Underwood
Chuck Underwood, the workshop facilitator, is one of the half-dozen people who created the field of generational study and author of the most comprehensive book on generational strategies ever published, America's Generation in the Workplace, Marketplace, and Living Room. Underwood is also the host of the PBS national-television series America's Generations With Chuck Underwood, the first such series in the history of television. Underwood is the creator of two pilot projects that are (1) inserting his generational content into existing community college courses and (2) testing a full-term course in generational dynamics, all of which will soon be available for rollout to community colleges nationwide.
Registration Deadlines
Registration
Type
Late Registration
(After September 29)

Member
$249.00
Non Member
$349.00
Online registration is now closed.
Registration will be available onsite.
Friday, October 13, 2017
10:00 a.m. – 3:00 p.m.
Workshop
12:00 – 1:00 p.m.
Lunch Provided
Regional Workshops supplement NISOD's offerings of professional development programs and resources, which culminate with NISOD's Annual International Conference on Teaching and Leadership Excellence held every Memorial Day weekend in Austin, Texas. NISOD's annual conference is noted as the premier convening of community and technical college faculty, administrators, and staff who strive for excellence in leadership, teaching, and learning. For more information about NISOD's conference or to register, visit www.nisod.org/conference.