Fourth Annual Virtual Conference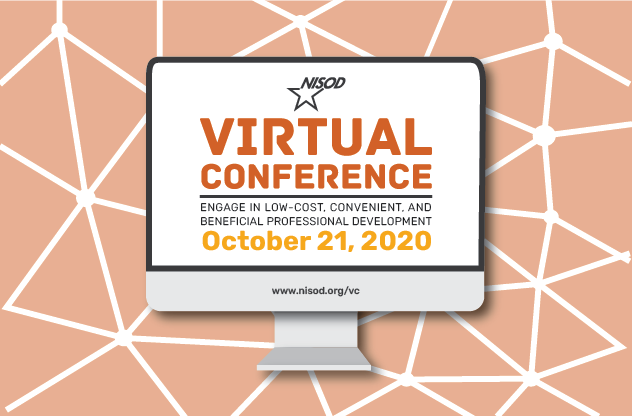 Make plans now to attend NISOD's fourth Annual Virtual Conference, 8:00 AM – 5:00 PM CDT on Wednesday, October 21, 2020. The virtual conference will be a completely online experience during which you can participate from anywhere you have access to the internet!
Individual Registration Fees and Deadlines
| | | |
| --- | --- | --- |
| Registration Type | Early Registration (September 25) | Late Registration (After September 25) |
| Member | $299 | $399 |
| Non Member | $399 | $499 |
Participants receive a Certificate of Attendance at the conclusion of the virtual conference. (Certificates of Attendance are not available with site licenses.) Registered participants who could not attend the live sessions can view the archived recorded sessions.
Site License Fees
A site license allows institutions to gather as many people as they desire into one room. Only one person at the licensed site will be registered, and that individual must login and keyboard during the Virtual Conference. If anyone else from the licensed site registers for the Virtual Conference, they will be billed at the individual rate. All individuals at the licensed site have access to archived Virtual Conference sessions following the live event.
Contact Edward Leach at ed@nisod.org for additional information.
| | | |
| --- | --- | --- |
| College Student FTE | NISOD-Member College | Non-Member College* |
| 0-1,500 | $1,000 | $1,825* |
| 1,501-5,000 | $1,100 | $2,225* |
| 5001-7,500 | $1,300 | $2,525* |
| 7,501-10,000 | $1,500 | $2,825* |
| 10,000+ | $1,700 | $3,125* |
*Includes a one-year NISOD membership.
2020 Preliminary Schedule
All Times Are CDT

8:00 – 8:50 AM
9:00 – 9:50 AM
10:00 – 10:50 AM
11:00 – 11:50 AM
11:50 AM – 1:00 PM
1:00 – 1:50 PM
2:00 – 2:50 PM
3:00 – 3:50 PM
4:00 – 4:50 PM
4:50 – 5:00 PM

Session 1

*

BREAK

WRAP UP

Session 2

*

Session 3

*

Session 4

*

Session 5

*

Session 6

*

Session 7

*

Session 8

*
"The conference provided real-world, engaging concepts to improve student learning!"
Curtis Scaglione, Faculty, Pasco-Hernando State College
"NISOD's Virtual Conference is a great way to introduce new ideas and best practices from instructors from around the country to our faculty and staff. We especially appreciated the technologies showcased in this year's event."
Cathy Brewster, Manager, Professional Development Office, Truckee Meadows Community College
"The NISOD web conference is an excellent opportunity to engage with new content without the prohibitive cost of travel. It is very well done and the technology truly supports the objective."
Dana Salkowsky, Director, Center for Teaching and Learning, SUNY Orange
"NISOD's Virtual Conference is an exceptional value for the time and money. I highly recommend this conference and I plan to attend again. I wish there were more conferences like this!"
Debra Sea, Associate Professor, Bemidji State University
"This is my third NISOD Virtual Conference, and I think it just keeps getting better each year. The topics and presenters were excellent and provided timely, applicable content regarding teaching, learning, and using technology!"
Dixie Fjeld, Administrative Support Faculty, Minnesota State Community and Technical College
"This virtual learning experience provided a wealth of ideas, strategies, and resources from masterful presenters!"
Julie Gilliam, Director, Center for Excellence in Teaching and Learning, Piedmont Community College
"The NISOD Virtual Conference is a cost-effective conference that includes hands-on presentations from other community college faculty. It's a great opportunity to hear from colleagues across the country about methods used to further student retention and success."
Kathryn Rhodes, Dean, Student Academic Services, Roane State Community College
The Virtual Conference supplements NISOD's offerings of professional development programs and resources, which culminate with NISOD's Annual International Conference on Teaching and Leadership Excellence held every Memorial Day weekend in Austin, Texas. NISOD's annual conference is noted as the premier convening of community and technical college faculty, administrators, and staff who strive for excellence in leadership, teaching, and learning. For more information about NISOD's annual conference or to register, visit www.nisod.org/conference.