Third Annual Virtual Conference
Make plans now to attend NISOD's 3rd Annual Virtual Conference, 8:00 AM – 5:00 PM CDT on Wednesday, October 23, 2019. The virtual conference will be a completely online experience during which you can participate from anywhere you have access to the internet!
NISOD's annual virtual conference consists of high-quality, handpicked sessions chosen from outstanding presentations made at NISOD's annual International Conference on Teaching and Leadership Excellence. The hand-picked presenters are chosen not only because of their reputations and areas of expertise, but also because they make the online conference as empowering, informative, and enlightening as NISOD's annual face-to-face conference.
Participants receive a Certificate of Attendance at the conclusion of the virtual conference. All sessions are recorded, which provides registered participants who could not attend the live sessions an opportunity to view the archived sessions.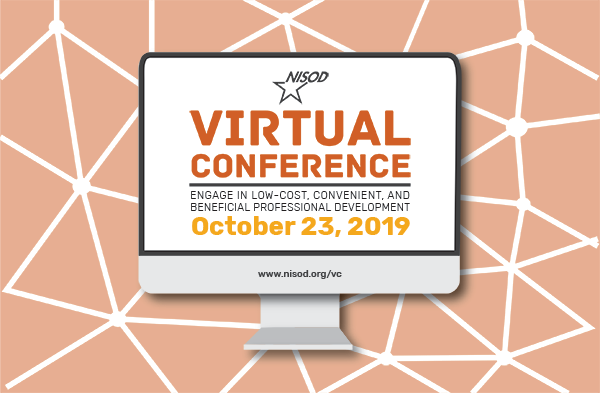 "I really enjoyed NISOD's 2018 virtual conference and took away several great best practices I can apply in my classroom and to myself. I also shared many of the best practices with my colleagues!"

Joyce Wawiye, Professor, Biology, New River Community and Technical College
"The virtual conference was great! I learned a lot from the presenters and the event was very cost-effective."

Jodi Fudge, Chair, Business and Technology Division, State Fair Community College
"Thank you for a great virtual conference, which was another excellent NISOD experience!"

Erin Fivecoat, Instructional Administrative Assistant and Assistant to the Division Dean, Science, Health, and Nutrition, Portland Community College
Due to popular demand, we are making recorded Virtual Conference sessions available for purchase at a nominal fee here.
Registration Type

Early Bird Registration


Prior to or on
September 27, 2019

Regular Registration


After
September 27, 2019
Member

$99

$149

Non Member

$199

$249
The Virtual Conference supplements NISOD's offerings of professional development programs and resources, which culminate with NISOD's Annual International Conference on Teaching and Leadership Excellence held every Memorial Day weekend in Austin, Texas. NISOD's annual conference is noted as the premier convening of community and technical college faculty, administrators, and staff who strive for excellence in leadership, teaching, and learning. For more information about NISOD's annual conference or to register, visit www.nisod.org/conference.