Third Annual Virtual Conference
Make plans now to attend NISOD's 3rd Annual Virtual Conference, 8:00 AM – 5:00 PM CDT on Wednesday, October 23, 2019. The virtual conference will be a completely online experience during which you can participate from anywhere you have access to the internet!
Virtual Conference participants will be able to see and hear high-quality, handpicked sessions chosen from outstanding presentations made at NISOD's annual International Conference on Teaching and Leadership Excellence, and participants in the face-to-face conference will no longer have to regret sessions they missed while in Austin because so many outstanding presentations took place at the same time!
Participants receive a Certificate of Attendance at the conclusion of the virtual conference. All sessions are recorded, which provides registered participants who could not attend the live sessions an opportunity to view the archived sessions.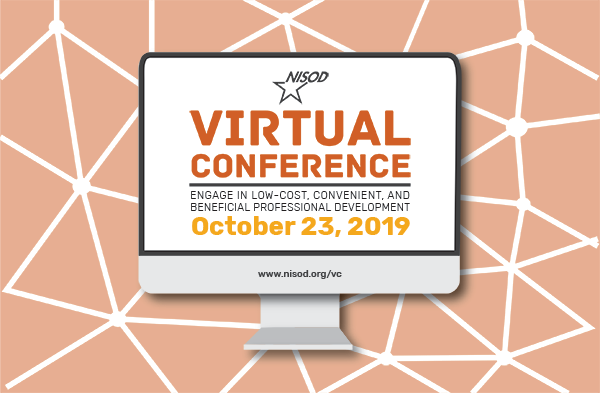 All Times Are CDT

 

 8:00 – 8:50 AM
 9:00 – 9:50 AM
 10:00 – 10:50 AM
 11:00 – 11:50 AM
11:50 AM – 1:00 PM
 1:00 – 1:50 PM
 2:00 – 2:50 PM
 3:00 – 3:50 PM
 4:00 – 4:50 PM
 4:50 – 5:00 PM

Session 1

*

 

 

 

LUNCH
BREAK

 

 

 

 

WRAP UP

Session 2

 

*

 

 

 

 

 

 

Session 3

 

 

*

 

 

 

 

 

Session 4

 

 

 

*

 

 

 

 

Session 5

 

 

 

 

*

 

 

 

Session 6

 

 

 

 

 

*

 

 

Session 7

 

 

 

 

 

 

*

 

Session 8

 

 

 

 

 

 

 

*
Sessions and Facilitators *
Session 1
Faculty Onboarding: Celebrating Successes and Lessons Learned While Creating a Program From Scratch
In 2016, Calhoun Community College created a three-year faculty onboarding program. Come learn more about the program, the rationale behind it, and the framework used to support new faculty. Hear about our successes and lessons learned and generate ideas for starting your own program or improving an existing one.
Jennie Walts, Director, Faculty Development, Calhoun Community College
Session 2
Increasing Adjunct Faculty Satisfaction and Effectiveness
The topic of adjunct faculty satisfaction and effectiveness is an important area of concern for higher education institutions nationwide, and particularly for community colleges, since they are more dependent on adjunct faculty to deliver academic content. This session focuses on ways colleges can increase the teaching effectiveness and satisfaction of adjunct faculty by providing specific institutional supports and resources.
Melodie Hunnicutt, Adjunct Faculty, Psychology, Midlands Technical College
Session 3
Get Them Involved! The Key to Keeping Your Students Focused
This session involves participants in fun and easy activities that keep you focused and provide classroom-tested examples of ways to keep your students focused in your classes. Activities lend themselves well to music appreciation classes, but can be adapted for any discipline. Use them to make your classes more engaging, enjoyable, and effective.
Allen Webber, Professor, Music, Palm Beach State College
Session 4
Covert Quizzes: Quizzing in Generation Z
Explore what is meant by the term "quiz," the essential purposes quizzes serve, and a few methods of quizzing that don't necessarily need to be called a quiz. Technologies such as Kahoot, Plickers, and Poll Everywhere are discussed, along with concrete examples of how and why such technology should be used in the classroom to specifically address Generation Z students.
Nathan Swink, Associate Professor, Behavioral Sciences, Butler Community College
Session 5
Helping Students "Fail Forward"
What is failure? Why do students fail? How can we help students overcome failure? Participants identify and discuss strategies to help students reframe their failures and continue on to achieve academic success.
Barbara LeBranch, Director, Faculty Center for Teaching and Learning, Seminole State College of Florida
Session 6
New Technologies That Help Improve Outcomes in Distance Courses
Discover less-familiar, inexpensive technologies you can use to create interactive and action-oriented activities and presentations for students in distance courses.
Kathrynn Hollis-Buchanan, Associate Professor, Business and Accounting, Kodiak College
Session 7
Looking for Apps to Engage Your Students? Join Us as We Share 50 Tools
Looking for apps to engage students in today's modern classroom? This session is for you! Join the presenter as he shares 50 tools in 50 minutes that help incorporate technology into your workflow.
Robert McWilliams, Coordinator, Instructional Design, Bishop State Community College
Session 8
Smartphones, Brain Science, and Gamification: Engaging and Retaining Underprepared Learners Through an OER Design
What lessons for building persistence can mobile-friendly online gaming and retail teach higher education? They can help students understand "cognitive load" and how to shift knowledge into long-term memory. Learn how Bossier Parish Community College's (BPCC) open educational resources (OER) refresher courses, built upon cognitive applications for learning, online engagement, and deep-game structure, help power at-risk students toward completion. You'll learn cognitive, science-based strategies for teaching underprepared students and get access to BPCC's free website to take back to your students.
Allison Martin, Director, Institutional Effectiveness Initiatives, Bossier Parish Community College
* Sessions are subject to change.
Registration Type

Early Bird Registration


Prior to or on
September 27, 2019

Regular Registration


After
September 27, 2019
Member

$99

$149

Non Member

$199

$249
Site License
A site license, which allow institutions to gather as many people as they desire into one room, is available for $1,000 for member colleges and available for $2,000 for non-member colleges. Only one person at the licensed site will be registered, and that individual must login and keyboard during the Virtual Conference. If anyone else from the licensed site registers for the Virtual Conference, they will be billed at the appropriate rate. All individuals at the licensed site have access to archived Virtual Conference sessions following the live event.
Due to popular demand, we are making recorded Virtual Conference sessions available for purchase at a nominal fee here.
"I really enjoyed NISOD's 2018 virtual conference and took away several great best practices I can apply in my classroom and to myself. I also shared many of the best practices with my colleagues!"

Joyce Wawiye, Professor, Biology, New River Community and Technical College
"The virtual conference was great! I learned a lot from the presenters and the event was very cost-effective."

Jodi Fudge, Chair, Business and Technology Division, State Fair Community College
"Thank you for a great virtual conference, which was another excellent NISOD experience!"

Erin Fivecoat, Instructional Administrative Assistant and Assistant to the Division Dean, Science, Health, and Nutrition, Portland Community College
The Virtual Conference supplements NISOD's offerings of professional development programs and resources, which culminate with NISOD's Annual International Conference on Teaching and Leadership Excellence held every Memorial Day weekend in Austin, Texas. NISOD's annual conference is noted as the premier convening of community and technical college faculty, administrators, and staff who strive for excellence in leadership, teaching, and learning. For more information about NISOD's annual conference or to register, visit www.nisod.org/conference.