Second Annual Virtual Conference
Make plans now to attend NISOD's 2nd Annual Virtual Conference, 8:00 AM – 5:00 PM on October 17, 2018. In addition to opening and closing keynotes, there will be additional sessions by hand-picked presenters chosen not only because of their reputations and areas of expertise, but also because they are individuals who will make the online conference as empowering, informative, and enlightening as NISOD's annual face-to-face conference. Plan to join us for a day of learning, sharing, and community building, all from the comfort of your home or office!
More details coming soon.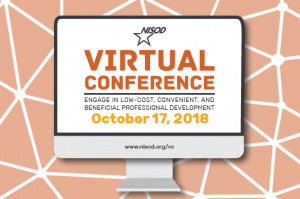 The Virtual Conference supplements NISOD's offerings of professional development programs and resources, which culminate with NISOD's Annual International Conference on Teaching and Leadership Excellence held every Memorial Day weekend in Austin, Texas. NISOD's annual conference is noted as the premier convening of community and technical college faculty, administrators, and staff who strive for excellence in leadership, teaching, and learning. For more information about NISOD's annual conference or to register, visit www.nisod.org/conference.
Generously Supported By