Virtual Conference Digital Access
NISOD's Annual Virtual Conference, which brings the reputation of our annual conference to a virtual platform, is a huge success! Due to popular demand, we are making recorded Virtual Conference sessions available for purchase at a nominal fee. Individuals who registered for our Virtual Conferences can request instructions for accessing the recorded sessions.
"I really enjoyed NISOD's 2018 virtual conference and took away several great best practices I can apply in my classroom and to myself. I also shared many of the best practices with my colleagues!"

Joyce Wawiye, Professor, Biology, New River Community and Technical College
"The virtual conference was great! I learned a lot from the presenters and the event was very cost-effective."

Jodi Fudge, Chair, Business and Technology Division, State Fair Community College
"Thank you for a great virtual conference, which was another excellent NISOD experience!"

Erin Fivecoat, Instructional Administrative Assistant and Assistant to the Division Dean, Science, Health, and Nutrition, Portland Community College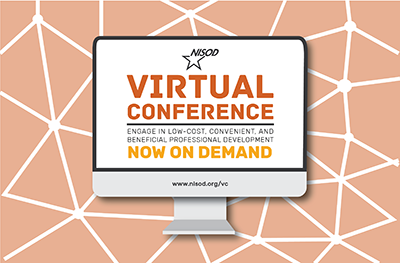 2018 Sessions and Facilitators
Best Practices for Engaging 21st-Century Learners
This fun and interactive session is designed for educators who want to connect with the next wave of 21st-century students. We examine the struggles our students face moving from an interactive culture to a one-size-fits-all classroom, after which participants learn about best practices for promoting active learning. Because the classroom is always evolving, the remainder of the presentation focuses on predicting the dynamics of the future classroom.

Linda Schmidt, Chair, Mathematics; Amy Moore, Professor, Mathematics, Spartanburg Community College
Using The Five Languages of Appreciation to Strengthen Student Engagement
"Students don't care how much you know until they know how much you care." Discover secrets for tapping into your students' motivation in the classroom. Learn how to use The Five Languages of Appreciation in the Workplace in a classroom setting. Session participants leave with concrete strategies and techniques that use the languages of appreciation and motivational theory in and out of the classroom to enhance student engagement and success.
Jeff Johannigman, Coordinator, Faculty Development; Chelsea Biggerstaff, Coordinator, Faculty Development, Austin Community College
The Power of Hope
Hope is the belief that tomorrow will be better than today and that you have the power to make it so. Research has concluded that increasing hope in students leads to a 12 percent gain in academic performance. During this session, participants explore how to help students develop the core competencies of hope, goals, agency, and pathways. Best practices for developing hope in others are shared.
Scott Geddis, Faculty, Health Professions and Wellness, Phoenix College
New Wine in Old Wine Skins: The Impact of Mobile Devices in the Classroom
Mobile devices can detract from the traditional lecture format, but they also present opportunities for greater student engagement. Participants examine the lessons one instructor, accustomed to the traditional lecture format, acquired as a result of a mobile devices initiative at his college. These lessons include using online tools and apps to assess in-class student learning of course content, collaborative learning to foster student engagement, and empirical observation of best practices.
David Toye, Professor, History, Northeast State Community College
Get on Up! Increasing Student Movement and Engagement in Class
Do you want to get students more engaged in your lectures? Following a quick review of Multiple Intelligence Theory, participants explore collaborative-learning exercises that increase your classroom's energy level. Be more student-centered in your approach to teaching. Attend this session to learn easy-to-execute college teaching techniques!
Sean Glassberg, Director, Faculty Development, Horry Georgetown Technical College
Invisible Man: How to Effectively Deal With Mental Health Issues in the Classroom
This session helps identify triggers and healthy de-escalation models that can be used in the classroom. Discussed are students' psychological well-being and how to effectively deal with crisis in the classroom. Participants gain knowledge that can be used to provide support and aid in removing the stigma of mental illness in the classroom.
Kamara Taylor, Faculty Lecturer, Cognitive and Learning Sciences, Michigan Technological University
Using Socratic Teaching: Engaging Adult Students to Think Critically
Traditional methods of teaching are mainly centered on the foundational underpinnings of pedagogical theory. Socratic teaching is the most powerful teaching tactic for fostering critical thinking when teaching adults; student engagement is paramount in andragogy. The focus of this session is on simple progressive methods used to teach adult students how to think instead of what to think, which increases students' ability to apply subject matter and enhances their overall learning experience.
Preston Rich, Associate Professor, Business, Collin College
Engaging Teaching Strategies 101
Have you ever sat through an endless faculty meeting that seemed to have no real purpose? Don't put your students through the same suffering! Engaging students in the learning process increases their focus, improves their critical-thinking skills, and helps them become invested in their learning. They (and you) will also have a lot more fun. Join this session to build your arsenal of engaging teaching strategies.
Farrell Jenab, Coordinator, Faculty Development, Johnson County Community College
2017 Sessions and Facilitators
Using the 4Ds of Appreciative Inquiry to Improve Faculty Communication
Communication between college faculty is a key component in modifying curriculum and maintaining a positive learning culture. Appreciative Inquiry (AI) is a problem-solving method based on organizational analysis. This session introduces participants to AI's four phases: Discover, Dream, Design, and Destiny. Engage in a problem-solving session using the 4D method to enhance your understanding of the process.
Herbert Jackson, Faculty, Respiratory Therapy Program, Houston Community College
Developing and Deploying an Online Teaching Certification Program
Wake Tech Community College developed a mandatory certification program for all online faculty to increase faculty preparedness. A team of faculty and e-learning support staff developed e-learning standards and a rubric used to evaluate online courses. The presenters provide details about the EPIC Online Teaching Certification, which offers 30 hours of professional development that cover every aspect of online instruction.
Alison Consol, Associate Professor/Program Director, Advertising and Graphic Design/Web Technologies; Cindy Foster, Associate Professor/Program Director, Simulation and Game Development, Wake Tech Community College
21 Ways to Boost an Adjunct
Research on faculty type with regard to impact on student success is ambiguous. However, two things are clear: we rely on adjunct faculty to teach a large number of courses and adjunct faculty do not have equal access to the resources that support teaching excellence. Identify low-cost ways to boost teacher effectiveness and formulate versions of these ideas for their own campuses.
Michele Kelly, Associate Dean, Arts and Sciences, Macomb Community College
Instructor Preparation Academy: A Journey From Industry to Education
Experience the three-year journey through the Instructor Preparation Academy from the perspectives of new, fulltime faculty at Northeast Wisconsin Technical College. Examine how Boot Camp, Faculty Learning Communities, and Individualized Professional Development plans support and engage faculty in their professional development and career growth.
Cliff Goodacre Jr., Faculty Development Consultant; Stephanie Atkins, Faculty Development Consultant, Northeast Wisconsin Technical College
Leveling the Playing Field: Adjunct Perspectives for Faculty and Administration
Often decisions affecting adjunct faculty occur without their input. Alternatively, administrators and tenured faculty may not be fully aware of the issues adjuncts face. This session introduces main issues from the perspective of adjunct faculty. Adjuncts, full-time faculty members, and administrators have the opportunity to discuss these important issues directly, increase interaction with each other, and seek mutual understandings.
Bob Ertischek, Founder, Profology
Becoming a Connected Educator: Building Your Own Personal Learning Network
This session provides an overview of various strategies and online resources that help faculty members stay current in their respective teaching disciplines. Social media tools, as well as additional assets, are explored. Participants gain an understanding of what a Personal Learning Network (PLN) is and why it can be beneficial to their teaching and learning. A variety of technologies are identified to help build, modify, and interact with a PLN.
Mark Choman, Professor, Computer Information Systems; Jim McAndrew, Professor, Business Development, Luzerne County Community College
Engaging Adjunct Faculty With Course Assessment
Engaging adjunct faculty with course assessment processes involves many challenges, including scheduling, compensation, and lack of commitment. A faculty retreat that features assessment can deal effectively with these challenges. Discuss general strategies for scheduling, securing compensation, sparking faculty interest, managing a group assessment activity, facilitating assessment rubric revisions, and using the revised assessment rubric.
Thomas Donlan, Assistant Professor/Department Coordinator, Speech Communication; Amanda Gatchet, Assistant Professor, Speech Communication, Montgomery County Community College
GLUE: Enhance Collaboration Among Full-Time and Adjunct Faculty
This session showcases a simple model for including the adjunct voice. The protocol, GLUE, structures a professional learning community for adjuncts and outlines an efficient process where full- and part-time faculty, administrators, and support personnel share visions and ideas on behalf of students. Learn about effective questioning techniques that foster "critical friendship" and how to move from a culture of "drive-by" interactions to a culture of meaningful teamwork!
Stacy Pendergrast, Writing Instructor, NorthWest Arkansas Community College and Oklahoma City Community College
The Virtual Conference supplements NISOD's offerings of professional development programs and resources, which culminate with NISOD's Annual International Conference on Teaching and Leadership Excellence held every Memorial Day weekend in Austin, Texas. NISOD's annual conference is noted as the premier convening of community and technical college faculty, administrators, and staff who strive for excellence in leadership, teaching, and learning. For more information about NISOD's annual conference or to register, visit www.nisod.org/conference.