Why Create an Individual Account
NISOD has migrated away from institutional logins to Individual Logins to provide better resources, networking, and a more tailored experience for individuals at our member colleges. Once you set up your individual account, you will have access to a one-stop shop that includes your past NISOD certificates, your upcoming registrations, and information about new and upcoming NISOD events and member benefits. Liaisons will also have access to useful features, such as a list of members from your college and cleaner navigation to renew your membership. Going forward, we are planning to use the Individual Accounts to create more opportunities for networking on our website by creating forums where individuals at our member colleges can share innovative ideas and discuss the issues facing community and technical college educators today.
If you already have an account, you can go to the Login Page.
Step 1 – Visit the Register Page to Begin
Visit https://www.nisod.org/register/
If you're already logged in:
If you are currently logged into your Institutional Account, you will be prompted to log out of your Institutional Account before creating an Individual Account. 

To log out, simply hover over your account email (or account name) in the upper right of the browser window, and then click on "Log Out." This will log you out of any account and redirect you to a page to begin the process of creating an Individual Account.

For example, to log out of my account, I would hover over my name and then click "Log Out."
If you're not logged in:
If you are not currently logged into our website, then you will be directed immediately to the "Creating an Individual Account" screen in step two.

Step 2 – Enter Your Work Contact Information
On the "Creating an Individual Account" page, enter the following:
First Name

Last Name

Work Email Address

Confirm Work Email Address

College
Then click the "Submit" button.
Note that your email address domain must be associated with your college; otherwise, you will not be able to create an Individual Account.
Once you submit, your information will be verified. If your information passes the verification check, you will be sent an email containing a link to a web page that will allow you to complete your Individual Account.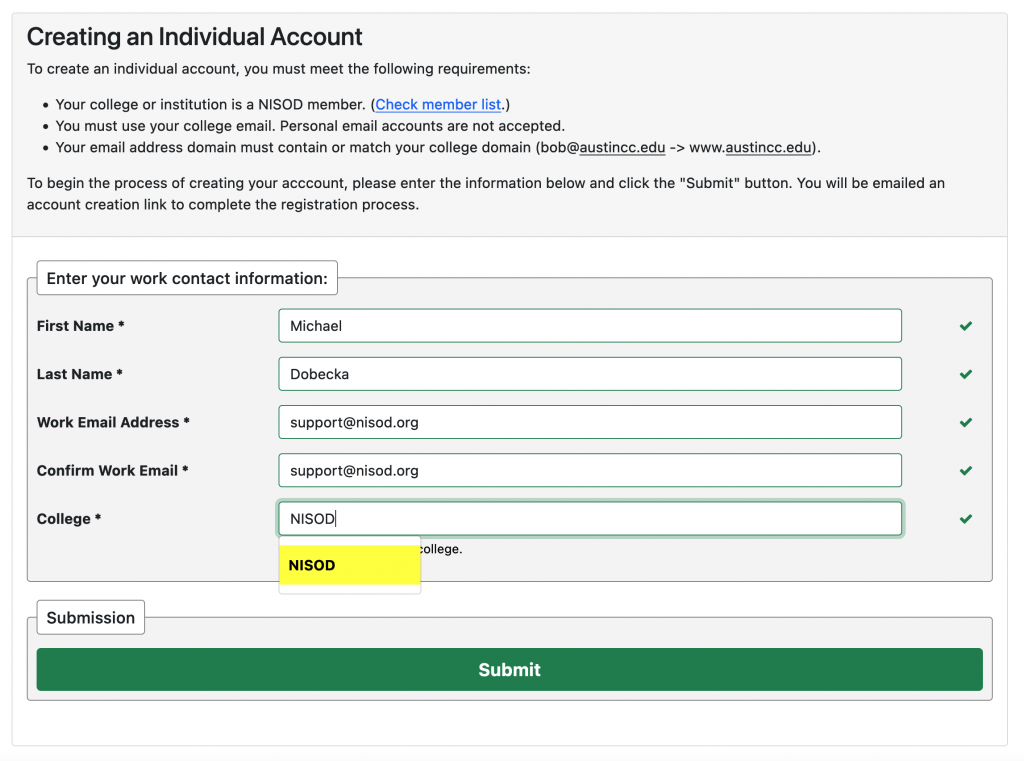 Step 3 – Wait for the Email
If your contact information and college meet the requirements for creating an Individual Account, an email with the account creation web link will be emailed to you to finalize your account creation. Be sure to check your spam folder if you don't see the email in your inbox. The subject of the email will be "NISOD Individual Account Activation," and it will come from "membership@nisod.org."
Once you click that link, it will open a page where you can complete the Individual Account creation process.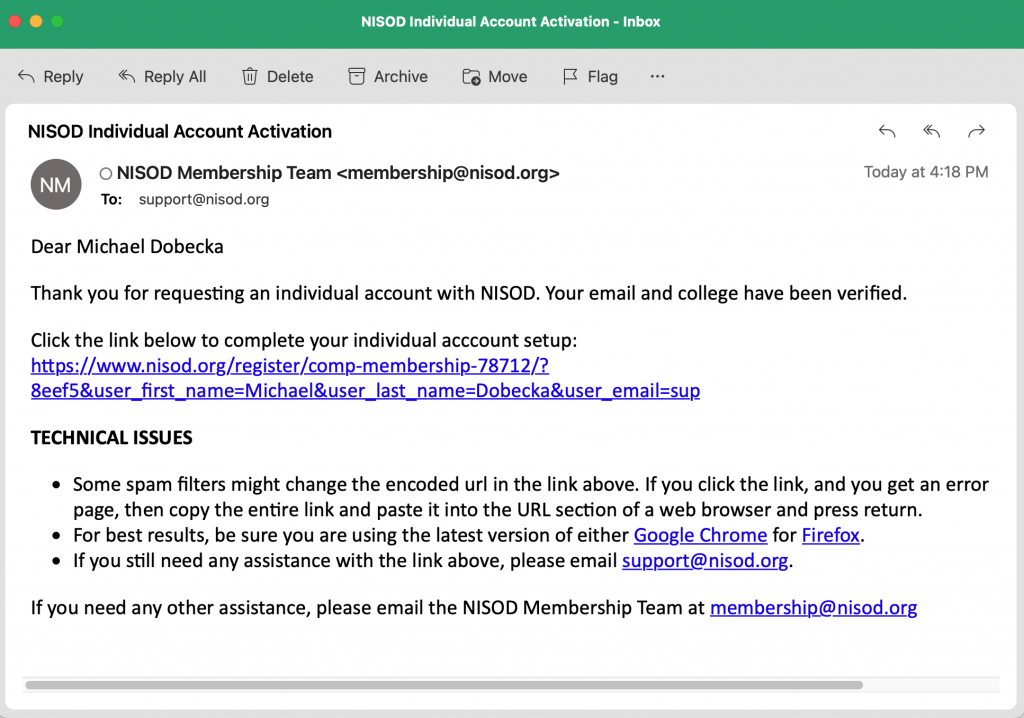 Step 4 – Complete the Account Creation Process