Pierpont Community and Technical College Regional Workshop
Teaching Critical Thinking
Workshop Description
This workshop provides participants with concrete tools for teaching critical thinking skills while covering required course content. By the end of the workshop, participants are able to create lesson plans that enhance critical thinking skills based on content from any discipline in the humanities or social sciences. Participants will also learn how these skills can be easily and accurately measured.
By the end of this workshop, participants know or are able to:
Understand fundamentals of the human brain regarding dispositions toward critical thought, bias, use of evidence, and heuristic thinking.
Understand what works and what doesn't work regarding critical thinking instruction.
Learn and apply precise pedagogical methods that help students at any level improve their critical thinking skills.
Learn and apply precise pedagogical methods to improve writing skills based on critical thinking practices.
Create critical thinking rubrics.
Activities:
Participate in exercises proven to enhance critical thinking.
Create exercises and exams that enhance and measure critical thinking skills.
Use and create rubrics that provide viable measurements of critical thinking.
Participants receive a Certificate of Attendance upon completing the workshop.
Preliminary Schedule
October 25, 2019

10:00 a.m. – 3:00 p.m.
Workshop
12:00 – 1:00 p.m.
Lunch Provided by NISOD
Location
Pierpont Community and Technical College
Advanced Technology Center (ATC)
Rooms 216 A & B
500 Galliher Drive
Fairmont, WV 26554
Download: 
Campus Map
Registration
Registration Type

Early Registration
on or before
September 27, 2019

Late Registration
after
September 27, 2019

Host College (Member)
$129
$179
Member
$159
$209
Non Member
$209
$259
Cancellation and Refund Policy
Cancellation and refund requests must be received prior to October 11, 2019. A refund of the workshop fee, minus a $100 administrative fee, will be given for cancellations received by October 11, 2019. NISOD also regrets that refunds will not be given after October 11, 2019 or for no-shows. However, we are pleased to credit your registration toward another workshop. In addition, substitutions are gladly accepted. A transfer of your full registration is permitted prior to the workshop by submitting a written request to
Annecy Liddell
by October 11, 2019. The individual requesting the transfer is responsible for all financial obligations (any balance due) associated with the transfer.
Consent to Use of Photographic Images
Registration and attendance at, or participation in, NISOD meetings and other activities constitutes an agreement by the registrant to the use and distribution of the registrant or attendees' image or voice in photographs, videotapes, electronic reproductions and audiotapes of such events and activities by NISOD.
About the Faciliator
Dr. John Eigenauer is a professor of Philosophy and Computer Science at Taft College in Taft, California. He holds a master's degree in English, a master's degree in Humanities, and a doctoral degree in Interdisciplinary Studies from Syracuse University. Dr. Eigenauer has taught Philosophy, English, Mathematics, Computer Science, Physics, and Spanish. He currently teaches Philosophy and Critical Thinking. Before joining Taft College, Dr. Eigenauer worked for Microsoft as a Senior Technology Specialist and at NASA Lewis Research Center as a Systems Analyst. He is a recipient of NISOD's Excellence Award and has presented internationally on the topic of critical thinking.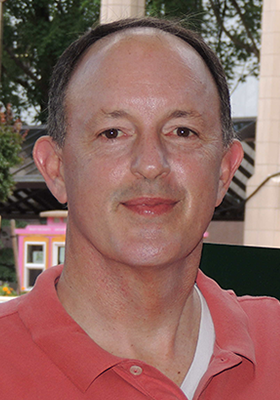 Hotel Information