Important Links
Exhibitor Registration –  select "exhibitor" on the first question. Each 10×10 booth comes with 2 registrations.
Social Media Engagement
Download conference Image and edit for your needs.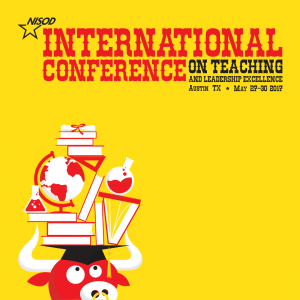 Use the conference hashtag #NISOD2017 when posting.
Snapchat Geofilter: NISOD has created a Snapchat geofilter, so make sure you add that to any photos taken inside the Snapchat app.
Tag @NISOD on Twitter and Facebook so that we can retweet and share your posts.
Suggested Twitter and Facebook content:
Join [COMPANY NAME] and over 1,000 community college educators at #NISOD2017 in Austin, TX May 28-30!
Countdown to #NISOD2017 http://bit.ly/NISOD17 [COMPANY NAME] will see you there!
Attending #NISOD2017? Stop by booth [BOOTH NUMBER] to find out more on how you can incorporate [PRODUCT OR SERVICE] into your classroom!
(find your booth number here)
Interested in [PRODUCT OR SERVICE]? Let's chat at #NISOD2017! Find us in booth [BOOTH NUMBER] or check out our session [SESSION INFO].
Boost Your Presence
Additional marketing opportunities to boost your exposure at the conference.
$200 Banner Advertisement on Conference App (10 available)
Banner advertisements are clickable and can be linked to any website desired. Graphics must be 600 x 110 pixels and submitted with URL for click-through link by May 19 for approval by NISOD staff.
$250 Tote Bag Inserts
Inserts must arrive by Wednesday, May 24. Limit 1 item (giveaway or marketing piece) per company. Address to:
NISOD
Attn: Britney Sauer
1912 Speedway, SZB 348
Austin, TX 78712
$400 Push Notification on Conference App (5 available)
Push notification sent to all conference app users. Message content limited to an 80 character title and 1024 character message, and must be approved by NISOD staff. Content due by May 19.
$1000 Exclusive Sponsorship of our Conference Daily Newsletter
Newsletter will be sent every morning (May 27-30) to all registered attendees as well as posted daily on the www.nisod.org homepage. Company will be listed as the sponsor of the newsletter and have the ability to include a clickable banner advertisement each day.
Banner Ad Specs
Width: 600 pixels
Height: 100 pixels
Format: PNG is preferred
E-mail Britney Sauer, sauer@austin.utexas.edu, to take advantage of the above promotional opportunities.
Contact Partnership Coordinator, Britney Sauer (sauer@austin.utexas.edu or (512) 471-8581)
for more information regarding sponsorship or exhibition.