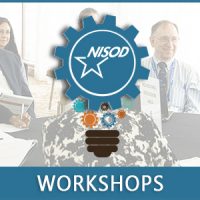 Navigating Through New Instructional Norms

The recent pandemic has shaken the norms of instructors and students. Instructors have had to rapidly adapt to previously untapped technology that would normally be placed in the "try later" category. This technology is key to establishing new comfort zones in online learning and providing effective instruction to students. This workshop series provides instructional tools that help participants create their desired online or blended learning environment.

I Didn't Know It Could Do That!
This part of the workshop covers the most useful features of virtual meeting platforms for blended and virtual environments, and is designed to showcase features that will help instructors manage synchronous and asynchronous learning environments.

Experience the most useful features found in Zoom, Cisco WebX, Google Meet, and Microsoft teams for teaching and learning in blended and virtual environments.
Learn how to integrate third-party apps into the above virtual meeting platforms.

Blended, Not Boring
Considering the increased amount of time students are looking at digital screens during this pandemic, it may be harder than normal to catch their attention. This part of the workshop demonstrates how to keep students engaged with digital content and shows participants how they can inspire meaningful collaboration.

Use media enhancements to give your course content more personality.
Practice collaboration techniques useful for blended and virtual environments.

Streamline Teaching, Learning, and Assessment With E-Portfolios
The American Association of Colleges and Universities recommends e-portfolio learning as a high-impact practice. E-portfolios provide an opportunity for students to make deeper connections with content in virtual and blended environments.

Become familiar with free e-portfolio platforms, work examples, and sample templates.
Learn how to select the e-portfolio pedagogical approach that fits your teaching style or course outcomes.
Learn how to align assignments, tasks, and labs with e-portfolios.

About the Facilitator

Dr. Marcus E.R. Williams is an educator who has worked and taught in K-12 and postsecondary settings for more than 15 years. Currently, he is the content leader for economics and teaches AP Microeconomics and Macroeconomics at Newton High School in Covington, GA. He was voted the "top teacher"—a distinguished honor—by the top ten graduating seniors in the classes of 2018 and 2020. He was also selected as a finalist for "Economics Teacher of the Year" by the Georgia Council on Economic Education. Dr. Williams is well known for his teaching style and for integrating technology into his classes, conference sessions, and workshops. He has presented at numerous conferences, including NISOD's annual conference. He also works as a consultant, training educators on how to employ digital learning strategies. Dr. Williams earned a B.S. from Clark Atlanta University, a M.A.T. from LaGrange College, and an Ed.S. and Ed.D from Columbus State University. His goal is to inspire, educate, and build capacity.