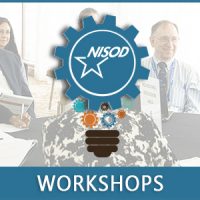 No More Boring Online Classes: Creating Exciting, Engaging, and Effective Live Sessions

With the advent of new technologies that make teaching via live, online (a.k.a. synchronous) sessions easier and more accessible, learning how to facilitate these types of sessions is a critical skill for all educators. Most of us have attended an online class, presentation, or webinar that was just plain boring. During this workshop, participants do some major boredom-busting! Are you ready to create and facilitate sessions that leave your learners wanting more? Do you want to boost your online presence? Are you ready to harness the power of learning sciences to create humanized, fun, and positive online classes? This workshop provides you with the skills needed to become an excellent online facilitator. Each part of the workshop includes opportunities to connect with the facilitators and your peers to ask questions and complete hands-on activities. This workshop will benefit anyone who wants to facilitate a great online learning experience, whether for a class, office hours, meetings, or conference presentations.

Starting Strong

The basics and definitions of online sessions.
The pros and cons of synchronous and asynchronous approaches.
Setting instructional goals.
Selecting a platform.
The critical first five minutes.
Activating prior knowledge.
Promoting your session.
Security tips and avoiding intruders.

Attention and Engagement

The role of attention in learning.
Getting and keeping learners' attention.
Why you shouldn't require on-camera presence.
Developing storytelling skills.
Humanizing online learning.
Slide design strategies.
Accessibility best practices.

Creating a Detailed Action Plan for Live, Online Session Success

How will you know they learned? Creating an assessment plan.
Activating the power of recall using a KWL activity.
Using Google Jamboard and Google Docs.
Avoiding common online facilitating mistakes.
Time management of your session.
Managing presentation fears.
Troubleshooting tech issues.
Creating and sharing your action plan.

About the Facilitator

Beth Cohen

Beth Cohen is an Assistant Professor in the Liberal Arts Department at Montserrat College of Art, where she teaches online and face-to-face courses in the humanities, and is a Senior Webinar Specialist at Columbia University's School of Professional Studies. In her role at Columbia, she trains and coaches faculty in pedagogical and technological best practices for the online classroom, and manages the delivery of virtual class sessions. She is passionate about creating engaging experiences for faculty and students, and leads workshops and consultations for faculty and staff to support that goal. She received a BA from Bennington College in English Literature and Visual Arts, and a Master of Fine Arts degree from the School of the Art Institute of Chicago in Film, Video, and New Media.

Clea Mahoney

Clea Mahoney has over five years of webinar facilitation experience and is proud to work for New York University as an Instructional Technologist and faculty training lead for academic technologies. She also teaches in the (fully online) M.S. Professional Writing program at NYU's School of Professional Studies. Clea has developed and delivered a multitude of engaging and interactive one-hour webinars for faculty, administrative staff, and colleagues, each session focusing on a specific set of goals depending on audience needs. Clea graduated with honors from Drew University (Bachelor of Arts in French) and from Drexel University (Master of Science in Library and Information Science).