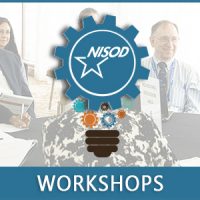 Teachin' It! Tips to Facilitate Inclusive, Inquiry-Based Learning Online

Are you feeling a sense of urgency to become an expert in equitable, inclusive instruction that amplifies students' voices and builds on the strengths of learners from every background? Are you motivated to transition your in-person classes to distance education classes that incorporate high-leverage online moves? This workshop offers practical strategies for delivering high-quality online instruction that disrupts larger systemic inequities at the classroom level. Participants receive strategies they can use to foster an online classroom where students from every background feel safe to experiment, take risks, and make mistakes; invited to communicate their unique approaches and perspectives; and free to develop their own identities as powerful lifelong learners. There is also a focus on synchronous and asynchronous learning using Zoom, iPhones, iPads, Google Docs, PlayPosit, and Canvas.

Prior to the workshop, participants receive excerpts from Teachin' It! Breakout Moves That Break Down Barriers for Community College Students, written by Dr. Felicia Darling, and a list of equity moves. In addition, participants will receive a survey that asks what they hope to get out of the workshop.

Five Breakout Moves That Build a Community of Powerful Learners in Online Classes

Equalize the balance of power in the classroom
Create inclusive student networks
Co-develop classroom norms with students
Use high-leverage tasks and moves that include more students
Ensure equitable access to resources for all students

Five Ways to Frame Your Instructional Moves With an Equity Lens in Online Classes 

Frame growth mindset strategies with an equity lens
Make grading, assignments, and assessments equitable
Give feedback that promotes equity
Make group work and projects more equitable
Practice equity moves beyond the classroom

Five Strategies to Ensure Every Student's Voice is Heard in Online Classes

Launch a class that values every student's voice
Employ high-leverage universal design moves
Bolster students' social capital
Facilitate inclusive discussions  
Amplify the voices of all students in group work

About the Facilitator

Felicia Darling is an instructor, author, researcher, teacher educator, and speaker who would like to see every person actualize their greatest human potential. She is a first-generation college student who has taught mathematics and education courses for 30 years at the secondary, undergraduate, and graduate levels. She possesses a PhD in Math Education from Stanford University and is a Fulbright Scholar. Currently, Felicia teaches math at Santa Rosa Junior College in California. Felicia is the author of Teachin' It! Breakout Moves That Break Down Barriers for Community College Students. Teachin' It! offers practical ideas that help instructors bolster the success of students seeking to attain their educational dreams–especially historically underrepresented students. Her work has been highlighted in The Chronicle of Higher Ed, Inside Higher Ed, Journal of Mathematics and Culture, and North East Public Radio.