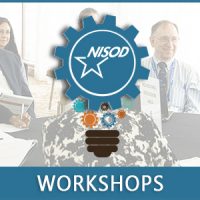 Redesigning the Learning Experience: Empathize, Ideate, and Prototype Like a Pro!

Today's changing world is influencing how we teach and engage students. It's more than just moving from a face-to-face to virtual format; our changing world has shifted the entire learning experience. The need to rapidly innovate has never been greater, but finding implementable solutions in a remote environment can be challenging.

What if we could co-create a more powerful learning experience by applying innovation tools and techniques used by technology leaders such as Google and Apple? Participants in this workshop innovate and design solutions and recreate learning experiences by using a proven learning technique grounded in the principles of human-centered design. Prior to the workshop, each participant receives a training video and handout outlining the power of design thinking.

Gain awareness of design thinking fundamentals.
Learn the power of framing the exact challenge.
Design a creative collaboration environment.
Create the student experience journey map.
Create a vibrant research plan.
Form insights and redirect the Innovation Challenge.
Understand the key steps to rapid ideation.
Measure the power of a new idea.
Create mock-ups for new services and approaches.
Learn prototyping techniques.
Build your implementation plan and creating a video pitch to share your ideas.

About the Facilitator

Dr. Judith Cardenas' academic background includes a doctorate in education administration, as well as a doctorate in training and performance improvement. She has completed a variety of postdoctoral trainings, including leadership development at Harvard University's John F. Kennedy School of Government and human performance improvement at the American Society for Training and Development and Human Capital Analytics. In addition, she holds a certification as a Registered Business Coach, is a Certified Professional for Return on Investment from Villanova University, Certified Neuro Coach in the areas of change, transformation, and agility from Harvard University, and is a Certified Professional in Innovation of Products and Services from MIT.

Dr. Cardenas' background includes roles in executive management and oversight of large public institutions where her duties entailed leading a $146 million operational budget plus an additional $30 million of federal funds, $10 million foundational endowment, and a 3,000-employee base. In addition to her diverse expertise in higher education, she has created and delivered training to organizations such as World Bank, United Nations, QVC, Inc., Phillips Semiconductor, the United States Navy, the United States Nuclear Regulatory Agency, and the United States Army.